Doctors introduced Hair Transplant Dubai to help individuals grow new hairs in balding areas of their scalp. It has solved the problems of many individuals who have been dealing with hair loss issues for ages. This is one of the most widely used hair restoration techniques since it allows patients to add natural-looking fullness and thickness to their hair. Moreover, it is not too invasive so local anesthesia is sufficient for it. Patients do not encounter long downtime after it. They resume regular household chores within seven to fourteen days. But it's important to look for a strong team of doctors for it as it is complex, requiring great effort to be successful.
How Much Hair Transplant Cost in Dubai:
As far as the price element is concerned, it should be pointed out that it is not fixed. However, in general, it is an affordable surgical procedure. Let's discuss this component in more detail.
Many doctors charge per graft. The price of surgical hair restoration treatment varies depending upon the extent of the operation, goals of the surgery, and surgeon's fees. Sometimes, it is just improving hair growth in front of the scalp. Other times, it involves doing the entire scalp to acquire thicker, and fuller hair all over the head.
The most important factors influencing Hair Transplant Cost in Dubai & Abu Dhabi are:
The Degree of Hair Loss:
The degree of hair loss makes a big difference in the total cost of hair transplant surgery. The doctor will use a Norwood scale to determine the extent of baldness. In general, there are seven stages, and the surgeon raises their prices depending on the baldness level. You should know that, stages 6 and 7 of male pattern baldness cost more than other stages as severe baldness requires more effort and time of the surgeon. Typically, 4000+ grafts are utilized in treating this hair loss issue.
Cost & Results of Hair Transplant: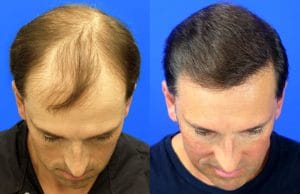 Surgeon's Reputation:
The expertise of the hair transplant surgeon plays an important role while measuring the cost primarily. Generally, surgeons having rich experience in performing Hair Transplant Surgery are more expensive than the surgeons who have just begun their career in it. But choosing a less experienced surgeon won't be a wise decision as his inexperience may lead to poor, botched results.
Location of the Health Center:
We can't underestimate the location of the clinic as it matters a lot. Generally, the clinics located in larger cities of the UAE offer cosmetic surgeries at higher costs than clinics situated in smaller cities. Their prices are high because they never compromise with the quality of the treatment and patient comfort.
Technique:
Price also depends on the technique used for transplantation. Most of the doctors utilize FUE and FUT to carry out a successful hair transplant surgery. However, if you have decided to get FUE, then please note that you might have to pay a significant amount of money in the end.
Number of Grafts:
The number of grafts may increase or decrease the Hair Transplant Cost in Dubai & Abu Dhabi. While 2500+ grafts help the surgical team to produce incredible upshots, the procedure is extended and too much time consuming under these circumstances. Consequently, the surgery may cost so much.
Is it worth it?
Surgical hair restoration procedures are more successful, effective than PRP Treatment, and over-the-counter medications. They present natural-looking, and lasting outcomes with the least recovery periods. About 70 to 80 percent of transplanted hair grow back on its own within three months. The results are not instant but it is definitely going to be worth the wait to see the final upshots of the treatment.
Average Cost of Hair Transplant Dubai:
See the Average cost of Hair Transplant such as Beard, Hybrid FUE, FUT or much more.
Beard Hair Transplant:
According to 2019 statistics, the average cost of beard Hair transplant for an average case is 3,000 AED.
FUT & FUE Transplant:
The estimated cost of FUE hair transplant offered by Dynamic Clinic is 7,000 AED. You can expect to pay anywhere from 4,000 to 7,000 per FUT session.
Stem Cell Hair Transplant:
Stem cell hair transplant is a new growth in the field of hair loss treatments. It is an expensive surgery. The price generally ranges from 10 AED to 12 AED per graft.
Schedule Your Free Appointment:
Get in touch with our team to know the exact Hair Transplant Cost in Dubai, Abu Dhabi & Sharjah. You can fill the consultation form or directly contact us through phone number.