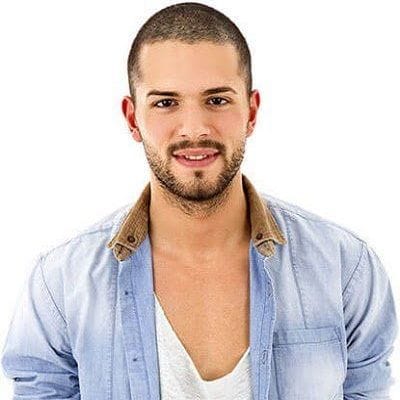 What are Hair Transplants?
A Hair Transplant is a surgical procedure designed to address Hair Loss or balding concerns. It involves the extraction of hair follicles from areas of the scalp where hair is abundant, known as the donor site, and their careful transplantation into areas with thinning or on the other hand, no hair, alluded to as the beneficiary site. The primary goal of this procedure is to achieve natural-looking hair growth in the recipient area and enhance both appearance and self-esteem.
Best Hair Transplant in Dubai – FUT & FUE Hair Transplant:
Others enjoy the beauty and luxurious tourism of the city, and most people visit Dubai to get a hair transplant. The city is known for its exceptional services in the cosmetic surgery field and has won the hearts of many with the quality of transplants performed here. There are several clinics in the area that offer this procedure, but Dynamic Aesthetic Clinic is the best place for Hair Transplants in Dubai. Our team of experts has years of experience and can handle all sorts of hairy situations. If you want to know more about this service, please continue reading.
Types of Hair Transplants:
There are two essential systems for Hair Transplantation: Follicular Unit Transplantation (FUT) and Follicular Unit Extraction (FUE):
1)   FUT:
This option involves removing an entire strip of hair from the donor site and then placing the graft with the scalp tissue in the receiver site. FUT has a 99% success rate but since the procedure causes scarring, most people prefer not to get it done.
2)    FUE:
This option involves taking one graft from the donor site at a time and leaving very tiny scars. FUE is the preferred option due to minimal scar, even though there's only a 90% chance of hair revival.
Who Can Get a Hair Transplant?
Hair transplants are minimally invasive. This means that there need to be some precautionary measures for the procedure to be safe. They only follow the patient if they want to have a risk-free procedure. For safe Hair Transplants in Dubai, the patient should take the following precautions:
They should not have any smoke or alcohol in their system.
Their blood should be free of substances and impurities.
Blood thinner would avoided for over a month.
You should not have excessive fat.
You should have a healthy diet.
If you are getting PRP treatments, you must have pure and clean blood. If the blood has traces of alcohol, tobacco, or substances like cholesterol, you won't be eligible. Most doctors will recommend that you avoid drinking and smoking 6 weeks before treatment.
What are the Results of a Hair Transplant?
Hair transplants have a 90 to 99% success rate depending on which option you pick and how you take care of your health. Usually, the results are visible after three weeks and full growth is visible within 3 months. Most patients will be able to see visible growth as soon as 2 months if they compare their before and after results. Some comparisons are also given below.
How Long Do the Results Last?
The outcomes of a hair transplant clearly long-lasting and regarded as permanent. The technique is also time-consuming and does entail a healing and rehabilitation process.
Because of the use of balding-resistant follicles in hair restoration surgery, quality is maintained even at their new site, and hair does not break or fall out. However, once they fall (being a part of the hair growth cycle), new hair will develop from the same follicle and the supply of hair will fill up.
How much does it cost to get a Hair Transplant in Dubai?
Unlock the secrets of Hair Transplant Costs in Dubai & Abu Dhabi, starting at AED 7,000 and reaching up to AED 15,000. Connect with the ultimate hair transplant surgeon for a quote tailored just for you.
Will Insurance Cover Hair Transplants?
Getting your insurance to cover your Hair Implants can be very challenging. There are certain conditions such as losing hair due to chronic illnesses or due to an accident. If you are getting a transplant solely for aesthetic reasons, insurance will not cover it.
What is a 1 Dirham Transplant?
We at the Dynamic Aesthetic Clinic charge our patients by the hair. This means that a 1 Dirham Hair Transplant In Dubai will get you one graft each. Most transplants will require 600 grafts minimum. So if you want to get a transplant at our clinic, you will not be charged more than 2000 AED for the smallest procedure. While other clinics will charge you double and sometimes even full cost even if you want to get a small bald patch cover.
Hair Treatment Cost:
We are offering a price that one can not resist. Our clinic is the best at it and assures quality service care with outstanding outcomes.
Let's learn about the cost per session in the table below:
Hair Transplant Treatment Cost Per Session

| Hair Treatment | 1 Session | 3 Sessions | 4 Sessions |
| --- | --- | --- | --- |
| FUT Hair Transplant | Starts from 6,999 AED | – | – |
| FUE Hair Transplant | starts from 6,999 AED | – | – |
| Stem Cell Transplant | 1,500 AED | 3,150 AED | 4,150 AED |
| Hybrid Hair Transplant | It starts from 10,000 AED (Roughly) | – | – |
| PRP Hair Transplant | 700 AED | 1,750 AED | 1,980 AED |
| Alopecia Areata Treatment | It starts from 600 AED (Roughly) | – | – |
| Hair Fillers | 1,500 AED | 3,800 AED | 4,000 AED |
| Front Line Hair Fixing (Surgical) | 1,200 AED (per session) | – | – |
| Mesotherapy for Hair | 450 AED | 999 AED | 1,200 AED |
| Natural Hairline through Transplant | Starts from AED 6,999 (per session) | – | – |
Note: It informs you that hair transplantation is accomplished by transferring hair follicles from the donor to the receiver's specified location. Each hair comprises three follicles, and the cost per hair is computed as 1hair=1dirham. Furthermore, keep in mind that the cost of each treatment varies depending on the condition of the patient. So it is best to have a FREE consultation with your surgeon to know the exact cost of your treatment sessions.
Procedure
Following are the steps involved in an FUE hair transplant:
Preparation of donor area.
Anesthesia (donor site).
Donor hair extraction.
Graft preparation.
Anesthesia (recipient site).
Recipient area preparation.
Graft insertion.
PRP for Hair Loss Treatment.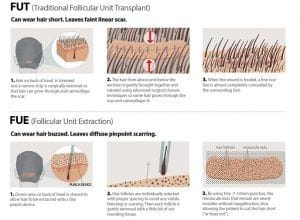 Recovery Process:
The scalp will hurt directly after the surgery.
Cold compression on the scalp is advised.
Consume pain medications directly after the medical procedure.
For the first several nights, lie completely flat.
For two to three weeks following the treatment, it is best to abstain from blood thinners, alcohol, smoking, and scalp scratching.
Advantages of Hair Treatment:
Less invasive: The FUE option is less invasive and removal of skin from the donor site is not essential.
Scar-less technique: There is no strip-cutting so a linear scar is not left at the donor site.
Use of body hair: It has the ability to produce hair follicles from almost any area of the body. This makes it a fascinating technique for those with serious balding.
Less downtime and discomfort: For those looking for minimal downtime after the surgery, FUE is ideal.
Quick recovery: As there are no long scars, the healing process is quite fast.
Are there any Non-Surgical options?
In the past, there were only surgical options available for recovering your lost hair. But a Non-surgical hair transplant in Dubai, with scientific advancements, is now available with ease. This option involves injecting the scalp with growth hormones in the hopes of reviving the follicles long enough for them to promote the production of new hair. Getting injections to promote your growth hormones is a quick process and will only take around 20 to 30 minutes.
Our Clinic's Financial Plans:
A payment plan accompanies every surgical procedure that costs more than 10,000 AED. You will be automatically placed in our 0% EXP finance plan if the hair restoration treatment costs more than the advertised amount.
Common Questions About Hair Surgery:
Is Hair Transplant Painful?
Thanks to local anesthesia and pain medication, a hair transplant is not painful.
What is a Graft?
Hair grafts are minute fragments of the scalp with one or two hairs that are removed from a healthy area of the scalp (often the back of the head) and placed in a bald area.
Do Hair Transplants Look Natural?
Since actual human hair from donor areas of the head is used, hair transplants look realistic. The actual hair and a large number of donor implants contribute to the look of naturalness.
How Much Time is Involved in the Treatment?
A hair transplant should take 3 to 8 hours to complete. You might have to come back the following day for a few hours if you are having a significant amount of hair transplanted.
Hair Treatment at Dynamic Aesthetic Clinic Dubai:
Dynamic Aesthetic Clinic's cosmetologist team takes great pride in its hair transplantation expertise. We offer exceptional services and are renowned as the best hair transplant clinic in Dubai! Sign up and get a complimentary consultation session with us today!
Consult a Hair Transplant Surgeon!
You have seen how important the Best Hair Transplant in Dubai UAE Clinic procedure is for hair regrowth. If you are interested in it, you can learn more by speaking to one of our Hair Specialists. So call us now or fill out our online form now to book an online consultation.