Hair Transplants in Dubai have become more prevalent and trendy nowadays. This procedure includes transplanting healthy hair follicles from the back. It can also be the side of a person's scalp divided into regions. If that is balding, thinning, or damaged owing to medical problems. There is no greater joy for patients suffering from these conditions. Then tending their once-bare scalps transforms them into full. But only a hair transplant can deliver. With technology advancing at a rapid pace. This surgery has become more accessible with lower pricing. And also faster outcomes, bringing hope and greater confidence. The procedure helps to regrow your natural hair. Because it uses genuine hair in the transplantation process.
What is a Hair Transplant?
It is a popular and successful operation for hair regrowth. It is effective for those who want to restore their natural hair growth. The procedure entails extracting healthy donor hairs. And then transferring them to bald or thinning regions. The treatment helps promote stronger, fuller hair growth. It is an excellent treatment option for both men and women. If they are also suffering from patterned baldness. Hair transplants in Dubai & Abu Dhabi also use advanced techniques. Which removes tissue strips containing many follicular units. The method also allows for faster coverage of large areas. It only causes tiny punches and a more comfortable post-operative recovery.
Results of Hair Transplant:
The outcomes of Hair Transplant in Dubai are astounding. Many individuals report feeling more confident about their looks. It also improves the psychological condition. Because of having a full head of natural-looking hair. The procedure's results can last up to ten years with proper care. So it's a long-term investment. Many individuals believe this method provides ideal pleasure. Since it uses living hairs from other regions of the body. It also allows them discretion over how dense.
Types Of Treatment:
The world of sophisticated treatments opens up a world of options. The procedure is reliable for a more outstanding approach. Our expert analysis is tailored to your clear hair loss circumstances. Then they will direct you to the best option. Let's look at the main alternatives:
A skillful surgeon extracts a strip of scalp skin using a knife in this procedure. Hair grafts are extracted from this strip. Then the expert will install the recipient location. While this treatment produces natural-looking results. But it does cause scarring in the donor area.
In this procedure, the surgeon extracts individual hair follicles from the donor region. Which is the back of the head. Then the expert will insert the hair strands into the target area. The healing process is also quick. The method produces the best outcomes that will match your expectations.
It involves removing a strip of scalp from the donor location. Then it will be dissected into individual hair grafts. The expert will implant the hair strains using the FUT method. Because of the incisions. There will be an evident scar in the donor area. However, the method is ideal for people with longer hair.
Robotic Hair Transplantation:
Many people prefer the accuracy and control of Robotic Hair Transplantation. Because the treatment uses technology such as ARTAS. Automatic technology is used to find the donner area. Then the robotic system will implant the hair follicles into the target area.
This invasive procedure seeks to reduce baldness. Scalp reduction treatment is used to address individual hair loss and baldness. A surgeon removes a part of the patient's bald scalp. And then it also extends the surrounding hair-bearing scalp. It is also helpful to decrease the bald patch during this treatment. This can result in better hair covering and a more visually attractive look. It works as part of a full hair restoration strategy. That may also include hair transplants. And also other methods to get the desired outcomes.
DHI begins with the extraction of hair follicles from the donor location. Which might be the back of the head. The extracted follicles are preserved before being transplanted with a Choi pen. It is a modern implanter instrument that produces incisions. It also helps to implant the hair follicles.
Is There a Non-Surgical Alternative?
Earlier, the only way to regain your lost hair was through surgery. But because of technological developments. A Non-Surgical Hair Transplant in Dubai is now easily accessible. This method entails injecting growth hormones into the scalp. Also in the hopes of rejuvenating the follicles long enough for them. These methods also encourage the formation of new hair. Getting growth hormone injections is a simple process. That will only take around 20 to 30 minutes.
This plasma-rich therapy encourages hair growth and is also natural. It is a therapy that has no negative side effects. Because it uses your own blood to regenerate your natural hair. They'll take blood from your arms. Machines will separate the plasma. It will extract plasma from the bloodstream. After that, the plasma will be injected into the treatment location. The treatment is non-invasive and painless. It is the most efficient hair restoration treatment. The method is beneficial in the treatment of hair loss.
This technique works well for reversing hair loss. Baldness Treatment can benefit both men and women. This technique stimulates the growth of hair follicles. It contributes to the prevention of hair damage.
It is an innovative and efficient baldness therapy. But when the patients are not surgical candidates. This technique contains seven active peptides. This can cure hair loss in a few days. This medicine is compelling for treating hair loss. It works in as little as 10 weeks. Patients should expect more noticeable improvements. They also help to prevent hair loss and promote growth.
Micropigmentation of the Scalp:
It is a non-invasive method that involves the use of little tattooed dots. This hair restoration procedure gives a full head of hair impression. The procedure does not replace hair. But it works by leaving dots on the scalp. The treatment conceals scanty regions and creates the illusion of longer hair. Treatment is effective for a wide range of hair loss disorders. It is effective in the treatment of alopecia areata. Because it hides scars from Hair Transplant Surgery. The therapy focuses on hair loss.
Laser Therapy at Low Levels:
Low-level Laser Treatment can treat both male and female-pattern baldness. Because it activates and energizes the hair follicle cells. The treatment thickens the hair. This procedure makes use of a low-level laser device. The technique removes dead skin cells from the scalp. It promotes hair development in the new cell. It's also a non-painful hair treatment.
Hair Loss Stem Cell Therapy is a treatment that encourages the development of new hair. It also uses stem cells to prevent hair loss. These growth cells are extracted from the patient's body. Then it was injected into the scalp. It has the ability to promote the creation of new hair follicles. While also enhancing the health of the current ones. It causes more density and thickness in the hair.
Who Can Get a Hair Transplant?
The eligibility criteria for a hair transplant operation may differ. Because it depends on the clinic's or applicants' unique needs. But there are several common aspects to assure suitability. The following are the qualifying criteria:
You must have enough healthy donor hair to achieve the outcomes.

You must be in good health.

Some medical disorders might enhance the risks of the procedure.

Applicants must have realistic expectations regarding the procedure's outcomes.

There is no specific age restriction, but candidates must be over the age of 25.

Many surgeons tell patients to stop smoking for a period of time.

If you have psoriasis or an active infection on your scalp, avoid the treatment.

It is time-consuming, and you should expect to spend many hours.

It can also be expensive, and you should consider the budget.

A consultation with a trained hair transplant surgeon is required.
Remember that each person's situation is unique. So it's critical to speak with a competent professional. They can assess your appropriateness for the surgery. And also go over the possible results and hazards.
How Long Do the Results Last?
The effects of a Hair Transplant are long-lasting and permanent. This therapy uses balding-resistant follicles. That helps to ensure that the transplanted hair stays in situ. It will also not break or fall out. Some of the hair may shed over time as part of the normal hair growth cycle. But new hair regrows from the same follicles, ensuring your supply of hair.
How Much Does a Cost Of Hair Transplant?
Hair Transplant Costs in Dubai range from AED 7,000 to AED 15,000. Contact a professional hair transplant surgeon. It will help to find the cost of the treatment.
Is Hair Transplantation Covered by Insurance?
Getting insurance coverage for Hair Transplants might be difficult. Insurance may reimburse the surgery. But in some situations, hair loss is the consequence of a persistent illness. But if you want a transplant for cosmetic reasons. Then insurance is unlikely to pay for it.
What Exactly is a 1 Dirham Hair Transplant?
At Dynamic Clinic Dubai, we charge per graft for hair transplant operations. This implies that a One-Dirham Hair Transplant in Dubai will give you one graft. Most transplants need at least 600 grafts. But if you choose to get a transplant at our facility. Then you may expect to pay no more than 2,000 AED. However other clinics may charge twice as much. 
What is The Cost of Each Procedure?
We offer compelling prices for top-quality hair treatments at our clinic. We also ensure excellent outcomes and care. Here's a breakdown of the cost per session:
Hair Transplant Treatment Cost Per Session

| Hair Treatment | 1 Session | 3 Sessions | 4 Sessions |
| --- | --- | --- | --- |
| FUT Hair Transplant | Starts from 6,999 AED | – | – |
| FUE Hair Transplant | starts from 6,999 AED | – | – |
| Stem Cell Transplant | 1,500 AED | 3,150 AED | 4,150 AED |
| Hybrid Hair Transplant | It starts from 10,000 AED (Roughly) | – | – |
| PRP Hair Transplant | 700 AED | 1,750 AED | 1,980 AED |
| Alopecia Areata Treatment | It starts from 600 AED (Roughly) | – | – |
| Hair Fillers | 1,500 AED | 3,800 AED | 4,000 AED |
| Front Line Hair Fixing (Surgical) | 1,200 AED (per session) | – | – |
| Mesotherapy for Hair | 450 AED | 999 AED | 1,200 AED |
| Natural Hairline through Transplant | Starts from AED 6,999 (per session) | – | – |
Note:
The cost per hair is calculated as 1 hair per dirham. It's important to note that the cost of each treatment may vary. We recommend scheduling a free consultation with your surgeon. They will help determine the exact cost of your treatment sessions.
How Does The Procedure Work?
Each procedure works in different methods. Because there are many treatment options available. The following are the key steps of Hair Transplant Surgery In Dubai:
The first step is to prepare the donor area for the collection of healthy hair follicles.

Then the expert will administer the anesthesia to ensure the patient's comfort.

Then it involves the harvesting of hair follicles from the donor region.

After the follicle removal, the expert will prepare for transplantation.

The expert will also administer local anesthesia to the recipient site.

The expert will also prepare the recipient area for graft implantation.

Then the graft is implanted into the recipient region.

Then the expert will recommend the aftercare.
Recovering:
Recovery from a Hair Transplant Treatment follows a set timetable. That varies depending on the individual. You may have some soreness, swelling, and redness in the treatment area. Antibiotics and pain relievers will help to control discomfort and prevent infection. The following is a broad summary of the phases of recovery:
It is critical to relax and avoid intense activity.

The scalp will sting following surgery.

You must apply cold compresses to the scalp.

Take pain relievers after the medical treatment.

Lie flat during the first several nights.

It is preferable to avoid blood thinners.

You must avoid drinking, smoking, and scalp scratching.
Benefits:
Remember that the suitability of advantages varies. It will differ from person to person. So contact a trained Hair Specialists. It offers the following benefits:
It will give you a more natural-looking and thicker head of hair.

The treatment improves your appearance and self-esteem.

It is permanent and does not demand extra treatments or upkeep.

The results will match your natural hair.

It can increase one's self-esteem and diminish one's self-consciousness.

It can be a cost-effective long-term solution for hair loss.

Recovery is also brief, and you can resume your regular activities.

Many people are pleased with the outcomes of their hair transplants.
Common FAQs About the Hair Transplant:
Is Hair Transplant Painful?
A hair transplant is not painful due to local anesthesia and pain medication.
What is a Graft?
Hair grafts are minute scalp fragments containing one or two hairs. that are taken from a healthy part of the scalp. And they will be put in a bald area.
Do Hair Transplants Appear Natural?
Hair transplants seem natural because they use natural hair. The genuine hair and a high number of donor implants. They will also give the appearance of naturalness.
How Much Time Does the Treatment Take?
Hair transplants should take between 3 and 8 hours to finish. If you are getting a considerable volume of hair transplant. Then you may need to return the following day for a few hours.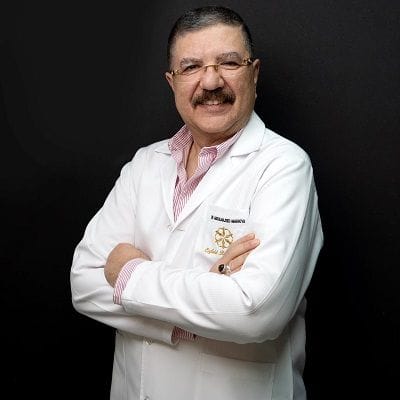 Dr Abdul Majeed Makkiya
1999 -2021 - Highly qualified cosmetic surgeon with 20+ years of experience. Passionate about helping others.
View Profile
Dr. Dina Elyamani
Get yourself enhanced according to your expectation from the leading aesthetic facility of Enfield Royal Clinic...
View Profile
Dr. Sannia Awais
A dedicated esthetician who is committed to the highest standards of excellence - always striving to achieve the very...
View Profile
Why Choose Us?
The cosmetologists at Dynamic Clinic In Dubai are experienced. We provide outstanding services. And we are known as the top Hair Transplant Clinic in Dubai! Sign up today and have a free consultation appointment with us.