Why Mole Removal Dubai & Abu Dhabi?
Moles – tiny growths that often pop up as small black and dark brown spots on the skin. The growths are very likely to occur due to the excess production of pigmented cells within the skin. While some moles fade away with age but others stay on the skin until they're properly treated. While they can develop on any noticeable part of the body but tend to occur on the face the most. This condition is absolutely harmless but unfortunately, possibly becomes a great source of lost confidence for most sufferers. Well, another bad fact about mole is that even makeup products can't hide it. This is because they are raised as well as very dark in color.
When to See a Skin doctor?
Thankfully, a lot of Mole Removal Treatment in Dubai & Abu Dhabi has been developed so far. Patients are requested to receive FDA-approved, natural, and easy treatments to get rid of these spots forever. The treatments we offer can make the skin smooth, flawless, and clear.
Most light-skinned people come across moles on their bodies from childhood. These growths are likely to appear in larger quantities. Depending on the number of moles, the condition can lead to severe emotional distress and consequently low self-esteem.
What is Mole Removal?
Moles usually appear on the face and neck but yeah, they can develop anywhere on the body including legs, arms, stomach, foot, etc. Anyhow, as they aren't aesthetically pleasing in most cultures, so effective mole removal treatments have been introduced up to date. Moles come in a wide range of sizes, and textures so their assessment could be difficult for you if you do it yourself. Based on these grounds, seeing a dermatologist would be a good idea. He can assess and examine the moles in a better way. Anyway, in addition to a mole assessment, it's very important that you talk about all the available options in the initial appointment with the doctor.
Results of Mole Removal:
The results of the treatment should be long-lasting as long as you take good care of your skin smoother. It's recommended to avoid UV rays, follow a balanced diet, and quit smoking for a few months. This will surely help you a lot to preserve the results for quite a long time, probably forever.
Who is the Candidate?
People who want to permanently get rid of moles or skin tags can get benefit from Mole Removal in Dubai, Abu Dhabi & Sharjah. It can make the skin clearer and more attractive and remove all Skin Tags. Further, it improves confidence and psychological well-being. But before the treatment, it's important that you find out if you qualify for this treatment or not. You are an ideal candidate if:
You aren't pregnant.
Your expectations from the procedure are realistic.
You don't have any skin infection or allergy.
To undergo the treatment, you must be 18 years of age.
You aren't a sufferer of any chronic disease.
 Preparing for the Treatment:
In the initial consultation with the doctor, a discussion about treatment goals and candidacy is essential. Anyway, once you fulfill the candidacy criteria and find out the reasons for the treatment, begin the preparation. These are a few important steps that you must take before having any mole removal therapy.
A week before, you should stop taking medications, herbs, and vitamins that you regularly use.
Smoking and alcohol consumption interfere with the treatment outcomes, so patients should break both these habits one month before.
For optimal results, allow the Dermatologist to customize the treatment plan based on the needs.
Be sure you are in the best possible health when you receive the treatment.
However, during the initial consultation session, our consultants will guide you more thoroughly about how to be well-prepared for this treatment.
How We Eradicate Moles:
At Dynamic Clinic, moles can be lessened permanently in the following ways:
Cauterization:
In this practice, the area that has a mole is burned. It is a minimally painful technique since heat is used in it. Well, to minimize this pain, a topical numbing cream may be applied beforehand.
Laser Treatment:
This option is ideal for people with flat, and dark-colored moles. During the procedure, the doctor uses the latest hand-held laser devices to target the moles. The laser reduces the excess pigmented cells as well as stops the production of new ones. It is relatively a quick fix to other mole removal techniques. Just 3-4 sessions will provide you with great results.
Hyfrecator Removal:
An FDA-approved safe and painless aesthetic treatment. In the procedure, electrical pulses are administered into the affected area to heat up the problematic tissues. This may be not appropriate for a mole that is present in sensitive areas of the body.
Cryosurgery:
It involves freezing a mole by utilizing liquid nitrogen. It can be done in the doctor's office in just 15 to 20 minutes. Anyway, this is not a good choice for deeply rooted moles. For such moles, you should consider surgical options.
Mole Removal Price:
Removing moles won't be heavy on your pocket as long as you are opting for the right procedure. In Dubai, the average cost of Mole Removal treatment typically falls anywhere from AED 249 to AED 1000. The number of moles availed sessions, and elected procedure may affect the charges.
Please let us know your mole condition for proper cost appraisals.
Aftercare:
For smooth and continued recovery, Mole Removal requires aftercare. Depending upon the treatment you have received, the dermatologist can prescribe different lengths of aftercare. However, the doctor may ask you to take the following steps in order to help you keep the effects as long as possible.
The area that has been treated should be kept dry and make-up free for a few weeks.
Avoid sun exposure. And for that, it's recommended to wear sunscreen before you leave home.
You can utilize over the counter medications only if your doctor allows you.
When you experience any major side effects, you should consult the doctor immediately.
Take all the scheduled sessions otherwise, you won't be able to get maximum results.
What can I Expect after the Treatment?
Immediately following Mole Removal Clinic in Dubai, Abu Dhabi & Sharjah, there will be some discomfort, pain, and swelling at the treatment site. But fortunately, these side-effects can be controlled. A special pain management plan could be highly beneficial here. This plan will be discussed with you in the initial consultation.
The doctor may prescribe you some pain relievers, and antibiotics for recovering beautifully.
How to Choose the Best Dermatologist:
People with sensitive skin need to decide the doctor more carefully than others. Never select the dermatologist simply based on the treatment cost, instead consider the credentials and background of the professional. An in-depth discussion about the doctor's certification, licensee, experience, skills, and previous cases is essential. Agree to proceed only if you feel comfortable and satisfied with the information provided by him.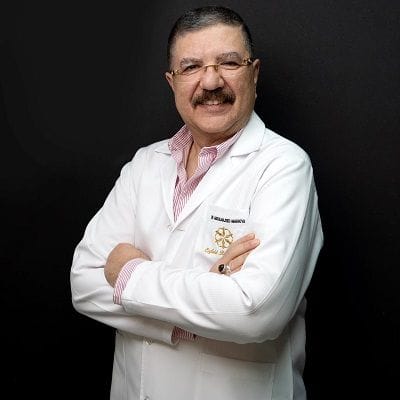 Dr Abdul Majeed Makkiya
1999 -2021 - Highly qualified cosmetic surgeon with 20+ years of experience. Passionate about helping others.
View Profile
Dr. Dina Elyamani
Get yourself enhanced according to your expectation from the leading aesthetic facility of Enfield Royal Clinic...
View Profile
Dr. Sannia Awais
A dedicated esthetician who is committed to the highest standards of excellence - always striving to achieve the very...
View Profile
 Schedule a Free Appointment!
The best you can do is schedule an appointment with one of our specialists at Dynamic Aesthetic Clinic Dubai. You can do that by filling the consultation form or calling us.