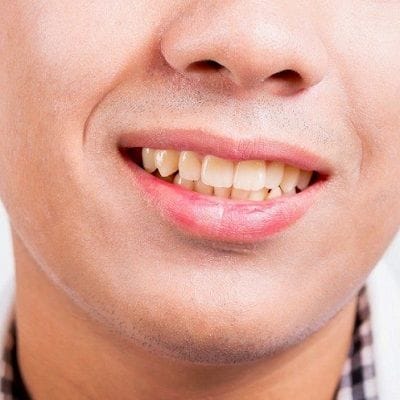 Teeth Stains can stop You from Smiling Freely!
No matter how strictly you have managed to avoid coffee, red wine, or any colored food. Dental stains can come. Despite tackling those stains with unresponsive home treatments, I prefer In-office Dental Stains Removal in Dubai & Abu Dhabi. It is a verified choice for your discolored teeth. Even works for people with varying levels of sensitivity and concerns.
Our Teeth Stains Removal Treatment in UAE provide:
Stain-free, shiny teeth
Perked-up smile
Long-lasting results
Before you meet our dentists, prefer reading this guide to get some information about procedure details, cost, and possible complications. 
Types of Dental Stains:
The three main types of dental stains are:
Extrinsic Stains occurs due to food, beverages, or tobacco
Intrinsic Stains often appear greyish. Certain medications, trauma, injury, braces cause this.
Age-related Stains come after the 50s. The enamel on teeth initiates to wear off. At times, intrinsic and extrinsic, both factors cause age-related stains.
 Note: Each stain is treatable upon meeting an expert dentist
When to see a Dentist?
If you notice any change in your teeth color that doesn't get better with fluoride toothpaste, it's time to see the dentist. We always prefer timely visits. So our dentists can help the issue from becoming more complicated.
Professional Dental Stains Removal Options
To make the teeth stain-free, we offer a couple of procedures. At times, we combine two or more dental methods to leave you with the most satisfying, beautiful smile.
The methods of Dental Stain Removal in UAE include:
In-office whitening/bleaching
Tooth Bonding
Veneers
In-office whitening/bleaching: Dentists use laser teeth whitening or zoom teeth whitening to ward off the enamel of teeth. Plus, they apply some bleaching agents with some manual skills to eradicate the deep stains from the tooth. Our dentists always put protective gel or rubber shields on gums to prevent gum infections.
In-office teeth whitening is painless, requires only 30 minutes. But it might take more than one visit as per the stain condition of your teeth.
Tooth Bonding: The flossy, sticky, tooth-colored bonding material is applied to the areas of teeth for altering their color and shape.
Veneers: It's a thin shell that covers the entire front of your teeth alters the full color.
Our dentists recommend the most satisfactory option that responds best to your staining teeth as per   your choices, comfortability, and health suitability. 
Dental Stain Removal Aftercare:
Any Dental Stains Removal Treatment Dubai you undergo there can be some tooth sensitivity and irritation. Please don't panic about it. Follow all the prescribed guidelines and get regular checkups.
Results:
Dental Stains Removal in Dubai & Abu Dhabi would result in a beautiful smile. This change accumulates soon after treatment. Get two treatments a year for optimal upshots.
Tooth Stains Prevention:
Following healthy oral hygiene is the leading step to stain-free teeth. As per experts, you need to make some habitual changes to your routine; but don't apply them immediately after dental treatment. At least give it time until teeth heal.
Carefully decide the food, beverages.
Get tea, but add extra milk to it.
Do twice brushing a day.
Rub your teeth with Vaseline
Limit alcohol and smoke
Floss daily.
Try oil pulling (coconut, sunflower, or sesame)
Teeth Stains Removal-Benefits and Complications:
Benefits:
Comforts you can enjoy after Teeth stains removal in Dubai include:
Stainless teeth
Brighter teeth shade
Overall improved oral health
Complications:
Upon choosing an untrained dentist, you can experience:
Damaged enamel
Teeth discoloration
Dental Stains Removal Cost Dubai:
Prices for Dental Stains Removal in Dubai vary as per chosen procedure, dentist's specialty, and a number of sittings. For in-office whitening/bleaching, AED 699 is the starting cost, whereas, for veneers and tooth bonding, you can expect to pay somewhere between AED 1000 to AED 15000.
Please contact our team for more details on cost, instalment plans, and further financing options.
Catch the Best Dental Services in Dubai:
Tooth discoloration is a usual problem, but that doesn't mean you bluntly visit any dental clinic without ensuring anything. Being the best dental providers in Dubai, we never prefer to compromise health over some cost. It's always good to visit a trusted clinic like us. We can examine your teeth, recommend the best Dental Stains Removal in Dubai and let you decide how you want to move forward.
Get Yourself Cured:
Becoming a victim of unconventional teeth stains isn't your fault but tolerating it for the rest of your life is yours. Think reliable for yourself by getting Dental Stain Removal. Use the online form or call at +971588230420 for appointments concerning Teeth Stains Removal in Dubai & Abu Dhabi.
Book A Free Appointment:
Give us a Call or Fill out the Consultation form to Schedule your Free Appointment.