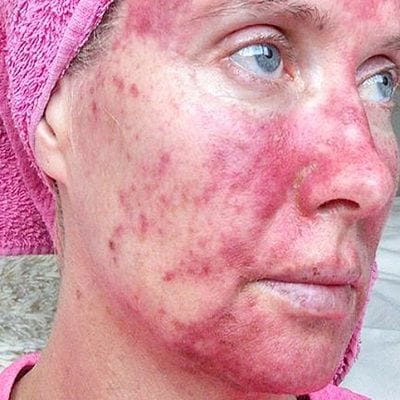 Due to excessive and prolonged exposure to ultraviolet radiation, rough patches, spots or growths appear on the surface of the skin. This skin concern is known as actinic keratosis or solar keratosis. Don't confuse them with warts, they both look the same but are two different problems. Consult an expert to determine which one you are having.
Mostly, adults do not face this problem, people aged 40 or more are more prone to this condition because actinic keratosis takes years to develop. They can be pinkish, yellowish, brownish, or skin-toned. The most common affected areas include lips, ears, neck, head, arms, and feet.
Males and females working in a sunny place are more likely to have them. Make your immune system strong and use sunscreen while going out to prevent them from occurring. Actinic Keratosis is not a health or medical issue but sometimes spreads to the surrounding areas which adversely affects the appearance of the skin.
Actinic Keratosis Treatments:
Treat actinic keratosis at its early stage because not all but a few of them can become cancerous so it's best to have them treated. Find a trained, experienced and highly-qualified dermatologist to get rid of this skin problem without complications.
If you are looking for Actinic Keratosis Treatment in Dubai, Abu Dhabi & Sharjah then the dynamic clinic is the right place for you. At the clinic, our dermatologists are using advanced technologies to provide the best possible results to the patients. This skin concern can be overcome by different methods, choose the one that is well suited for you. Most actinic ketosis procedures are outpatient and simple, do not take more than an hour to complete.
Choose the Best Treatment:
Common actinic keratosis treatments that we offer at our clinic are,
Cryosurgery
Chemical peel
Photodynamic therapy
Curettage
Laser resurfacing
Topical treatments
Cryosurgery:
The best and most preferable treatment of AK. It involves the use of freezing temperatures. During the procedure, liquid nitrogen is applied to the problem site to remove actinic keratosis. The treated skin area will peel off after some days and spotless and clear skin will take its place. The procedure is short and safe but can cause pain or discomfort.
Chemical Peels:
People have been considering this top-notch treatment for eliminating their skin concerns including acne, spots, and melasma over the past few years but most of them are unaware of the fact that it can be used to treat actinic keratosis as well. The peels come in varied strengths but all of them work on exfoliation techniques. To remove AK, a chemical peel is applied to the skin in order to remove its damaged top layers. The revealed skin will be flawless and more attractive. It is less expensive as compared to cryosurgery but comes with a few minor side effects. Do not try this treatment at home, always look for an experienced doctor to minimize the chances of getting botched results from it.
Photodynamic Therapy:
It has not yet been approved to treat severe actinic keratosis on the face. This option is well suited for those who had them removed earlier but they have reappeared on their skin again. It delivers excellent cosmetic outcomes without causing major side-effects. The procedure can take 60 to 120 minutes to complete and is usually done in two main steps,
In the first step, 5-aminolevulinic acid (ALA) is applied to the affected area of the skin to make it more sensitive to light
In the next step, the skin will be exposed to blue and red light for a specified period
The light triggers the chemical solution and destroys the cells of actinic keratosis. Some swelling and bruising will appear on your face for 3-4 hours post-procedure. As soon as these side-effects are gone you will see improved texture and tone of the skin.
Curettage:
During the procedure, a special instrument, known as a curette, is used to remove thick AKs of the skin. After curettage, the doctor might use electrodesiccation to improve the results. This option is better than others in the way that it delivers more long-lasting results.
Laser Resurfacing:
You can also go for laser resurfacing to treat actinic keratosis. It provides excellent results for actinic cheilitis (growths on the lips). The downside is that multiple sessions are required to remove them completely so it becomes difficult for the people to maintain continuity of care.
Results Of Actinic Keratosis Treatment:
Book a free Appointment:
To get the best Actinic Keratosis in Dubai, Abu Dhabi & Sharjah visit Dynamic clinic. Fill out the consultation form or call us on the phone number to book a free initial consultation session.