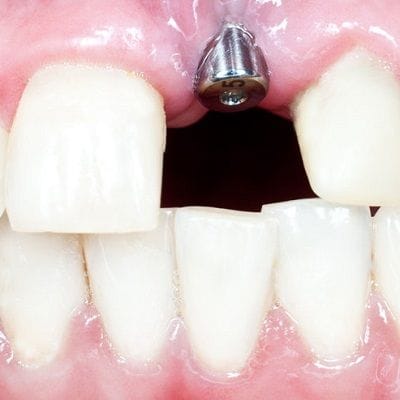 Dental Implant Infection is a common but unanticipated complication. Thankfully, it can be avoided with good surgical care!
An implant is a metal post that interferes with the jaw bone to support an artificial tooth (crown, denture, or bridge). It is usually made from high-quality titanium or Zirconia. After placing an implant and placing an artificial tooth on it, you will get the beautiful, symmetrical, and confident smile of your dreams!
Getting dental implants can change your life for the better but in recent days pioneers have discovered that implants can cause long-term problems as well. FYI: infection is the most common complication after dental implant surgery. You need to take good care of your implants to reduce your risk of infection. It is also very important to follow all post-operative care instructions correctly.
Let's take a close look at Dental Implant Infection in Dubai, Abu Dhabi & Sharjah, and the steps you can take to prevent it from becoming ill.
What is a Dental Implant Infection?
Sometimes, in the early stages of Dental Implant Surgery (DIS), an infection develops in the tissues surrounding the post. This usually occurs when another organism enters the mouth along with the implant. The organism can be a virus, bacteria, parasite, or fungus.
Symptoms include bleeding gums, swelling, fever, bone loss, redness, an increase in pocket depth, and an infectious discharge
To reduce your risk of dental implant infection, closely monitor your gums following your DIS. Follow the professional's instructions and see him if you notice any changes in the tissues surrounding the teeth, especially if you experience the above-mentioned symptoms of dental infection.
Diagnosis:
When the dental surgeon suspects dental implant infection in Dubai, they'll perform some tests to rule out the causes. The tests may include:
X-ray of infectious tissues.
Probing (this involves using a small measuring device around the teeth to assess inflammation).
Because scientific knowledge has increased in recent years, many professionals have begun to set diagnosis standards.
Treatment Options:
There are many special mouth rinses and treatments out there that can control the progression of infection, and return implants and artificial teeth to a healthy state. Treatment will be chosen based on the amount of bone loss or the level of infection. The surgeon can also take into account the esthetic impact of the implant.
The Top Dental Implant Infection Treatments in Dubai include:
Antimicrobial Therapy:
First-line treatment focuses on booting out the symptoms until the infection goes away. Doctors use anti-biotic drugs for this. The drugs affect the growth of bacteria – either kill them or disrupt their vital processes. However, if the professional discovers that antibiotics alone do not cure the infection, they may have to choose a therapy to clean up damaged tissue, or perhaps replace or remove the implant entirely.
Mechanical Debridement:
As the name suggests, this type of debridement is usually performed using mechanical force. It is cost-effective but can be painful. So, if you are taking it, a professional may give you pain relievers beforehand.
It is also important to note that this method may have a limited effect and, of course, may not completely remove all adhering microorganisms.
Laser Therapy with Surface Decontamination:
Laser therapy is an amazing alternative to mechanical debridement. Various studies have shown lasers to be effective against implant infection. They can enhance bone-to-implant contact and sterilize the post without affecting the integrity of the implant.
Dental Implant Removal:
If the infection persists even after antimicrobial therapy, mechanical treatment, or laser treatment, the surgeon may consider complete removal of the implant.
After about 6-8 weeks of implant removal, if the infectious tissue has completely healed, you can opt for a second operation to store the damaged tooth again.
Cost:
The cost of dental implant infection treatment in Dubai can range from around AED 2,000 to AED 10,000 approximately. The cost can vary depending on the practice location, type of treatment, dentist's skills, and degree of infection.
Why Choose Us?
We want you to be healthy! Millions of men and women have trusted us for their dental treatments for more than 25 years and for a good reason. With an amazing team of certified professionals offering a wide range of surgical procedures as well as the latest and safe non-surgical options, Dynamic Clinic provides long-term results and exceptional patient care. Our main objective is to make sure you are happy with your new smile and with your entire appearance.
Book A Free Appointment:
Give us a Call or Fill out the Consultation form to Schedule your Free Appointment.