A Long-Term process that will help you lose weight and avoid Obesity-Related Health Problems!
Intragastric Balloon Placement in Dubai & Abu Dhabi is a non-surgical, outpatient procedure that involves the insertion of a round, saline-filled silicone balloon for reducing appetite, limiting the food carrying capacity of the tummy, and making you feel fuller sooner. The procedure takes about 20-30 minutes and is done in mild sedation.
Finding a Bariatric Surgeon? Who are the good candidates? What kinds of results are possible? Learn everything here.
Indications:
Here are a few signs that you might be right for non-surgical weight loss (Gastric Band):
Have got a substantial amount of weight to lose.
BMI of 30-40.
Note: Alcoholics, drug addicts, and pregnant ladies are not eligible. They should look for other options.
Results of Gastric Balloon UAE:
Gastric Balloon is the most convenient non-surgical weight loss treatment available. It's non-invasive, less expensive, and can be reversed. Plus, the devices are temporary. The average intragastric balloon placement time falls between six to seven months and you lose 20-30 pounds with it.
As far as the longevity of the results is concerned, by taking care of yourself, you will be able to enjoy results throughout the year.
Preparation:
Take these simple steps to get the best results from Gastric Balloon in Dubai & Abu Dhabi:
Set realistic expectations.
Eat healthy and stay active.
Follow a medically supervised diet.
Quit smoking about a month before your surgery.
Follow an exercise regimen to get as close to your weight loss goals as possible.
Procedure:
The procedure is performed endoscopically under sedation. To be precise, the bariatric surgeon uses an endoscope – a thin light tube with an attached camera – to visualize the stomach. More on that below
Stages of Intragastric Balloon Placement:
The empty gastric balloon is attached to the tube and inserted orally 2 cm above the gastro-esophageal junction.
Once in the correct position, the balloon is filled up with a saline solution.
Finally, the endoscope is removed, however, the balloon remains in the stomach for six to twelve months.
Aftercare:
While it's fine to resume household chores, surgeon Abdul Majeed, says to avoid strenuous exercises for three months while the body heals.
You are encouraged to be on a clear liquid diet for three to four weeks.
Note: If you are still not ready for your surgery, be sure to contact a Bariatric Surgeon for a detailed consultation.
Cost of Gastric Balloon Dubai:
The cost would include the surgeon's skills, anesthesia used during the treatment, visits to the dietitian, and the procedure itself. In general, Average Cost of Gastric Balloon Placement in Dubai UAE can cost between AED 12,000 to AED 18,000.
Recovery:
Like other cosmetic treatments, there's mild pain and discomfort with Gastric Balloon Placement in UAE. However, when an experienced bariatric surgeon, like Dr. Abdul Majeed Makkiya, performs the procedure, the side effects are minimal.
Pros and Cons:
While Gastric Balloon Placement is an excellent option for folks that want to look their best without undergoing the knife, there are some downsides to look out for. Consider the following pros and cons to see if this non-surgical weight loss treatment is right for you:
Pros:
No downtime required.
Delivers smooth results.
Cheaper.
The most affordable technique for toning the whole body.
Improves self-confidence.
Cons:
Vomiting, stomach discomfort and pain are among the few common side effects many people have experienced after treatment.
Its results are not immediate.
Alternatives:
First off, regardless of the procedure you get, the confidence you end up gaining will make it worthwhile. 2 best alternatives to non-surgical weight loss are:
Sleeve gastroplasty.
Gastric banding.
Confused? Deciding on whether you want a weight loss surgery or non-invasive treatment is definitely a personal choice. Each one is safe and proven to be effective, but it highly depends on what outcomes you want to get (and for how long).
Intragastric Balloon Placement Dubai:
Our shared objective at Dynamic Clinic is to give our patients the figure of their dreams in the safest and most effective way possible. And to fulfill this, we utilize a team approach where our recognized plastic surgeons have come together to deliver quality care.
Consult a Gastric Balloon Placement Surgeon's: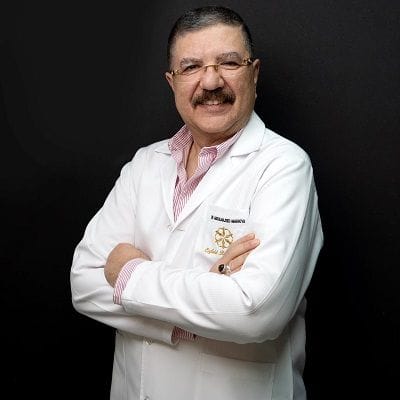 Dr Abdul Majeed Makkiya
1999 -2021 - Highly qualified cosmetic surgeon with 20+ years of experience. Passionate about helping others.
View Profile
Dr. Dina Elyamani
Get yourself enhanced according to your expectation from the leading aesthetic facility of Enfield Royal Clinic...
View Profile
Dr. Sannia Awais
A dedicated esthetician who is committed to the highest standards of excellence - always striving to achieve the very...
View Profile
Take the First Step to a Brand New You!
It's never too late to get the body of your dreams. Contact Dynamic Aesthetic Clinic, if you have any concerns regarding surgical and non-surgical weight loss. Fill out the short form or give us a call at (+971 561772998) to book an appointment. Our competent team can help you transform yourself.
Book A Free Appointment:
Give us a Call or Fill out the Consultation form to Schedule your Free Appointment.