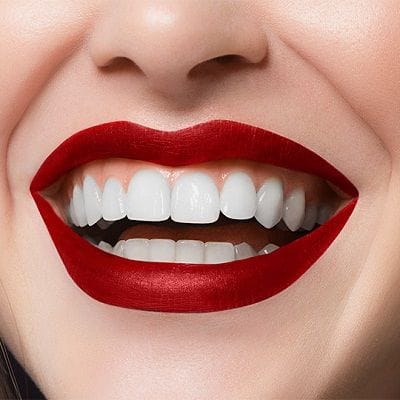 It simply refers to the procedure that involves improvement in the appearance of the smile. Hollywood Smile Design in Dubai & Abu Dhabi can be done using a single or more cosmetic dentistry procedures. Such procedures may include veneers, crowns, composite bonding, dental implants as well as teeth whitening. While undergoing such cosmetic treatment our board-certified dentist takes into consideration one's facial profile, hair color, skin tone, teeth texture, lips and gum tissues in order to develop an ideal smile. The demand for this dental technique has been increasing in popularity day by day – "how to obtain the perfect smiles".
Aim Of Treatment:
It's the fact that a pretty smile is the most important social aspect. Teeth with perfect appearance can excessively mean different things to different individuals. Therefore our aim of Hollywood Smile Design is to achieve individual goals when it comes to getting the makeover they wish for. The most important factor contributing to beautiful smiles is "perfectly straight teeth". It goes deeper than just the physical appearance and achieves the goal of the confident and long-lasting smile.
Results:
You will see instantaneous results with Smile Design. Most of the times people come up with an attractive and natural looking smile. This depends on the level of care you get from your dentist. So choose him/her wisely! It demands years of experience and a lot of education to attain that level of ability. Our dentist delivers very customized final outcomes. Therefore, two new smile designs are never alike.
Benefits:
Improves your morale.
Helps you feel better about your smile.
Gives a new smile and renews confidence.
Makes your teeth straight and well-aligned.
Positively highlights the cheek-bones and lips.
Delivers natural look for complementing the overall appearance.
Who Is Candidate?
Anyone can go for a Hollywood Smile Makeover in Dubai, Abu Dhabi & Sharjah (both males and females). We can give you a beautiful smile to make you feel more confident on the inside and can radiate a sense of health and youth on the outside. You are a good candidate for this treatment if:
You don't have time to wear braces
You want to have more radiant smile
You want to recover minor crooked teeth
You are unhappy with your unaligned teeth
You grin without showing teeth whenever you sit for a picture
You must have enough tooth enamel to support smile design procedure
Technique We Use:
A number of techniques play a role in designing of a Hollywood smile. Among these, our cosmetic dentist chooses that procedure that aesthetically fits your facial structure and your needs. You may be recommended to go with one or more of the below-mentioned procedures for achieving a beautiful smile:
Teeth whitening.
Use of metal-free fillings.
Use of porcelain veneers.
Use of crowns and bridges.
Cost & Offers of Hollywood Smile Design Dubai:
Hollywood smile design is a perfect way through which you can enhance your facial profile. Let's dig in to know how. 
A hollywood smile design consists of different aesthetic treatments that in contribution provide you with a wider, pearly white and sparkling set of teeth. The dynamic clinic offers various costs and packages for Hollywood Smile in Dubai round the year. Then avail the offer at as low as starting from 15,000 AED  right now and enjoy its benefit.
Best Dental Doctors:
Schedule a Consultation!
We work closely with our clients to develop a treatment designed plan for achieving what you exactly want. Our makeover of Hollywood Smile in Dubai, Abu Dhabi & Sharjah comprises both the cosmetic and functionally reconstructive techniques. If you are thinking to make your smile more beautiful, then feel free and contact us by filling the consultation form given below. Our goal is to give a smile of your dreams so that you can have an attractive and youthful-looking appearance.