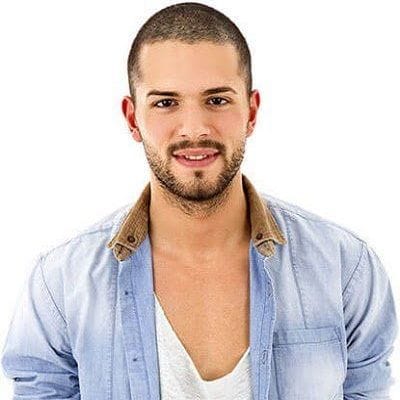 Best Hair Transplant in Dubai – FUT & FUE Hair Transplant:
Hair transplant is a safe and effective option to naturally restore hair growth. More and more people who want to restore hair growth now take hair transplant procedures. There are different methods to perform and it is important to go through these methods of hair transplantation in detail. If you want to undergo a Hair Transplant in Dubai & Abu Dhabi Clinic, given below is an elaborated read into the process.
Are you a Candidate?
Individuals who wish to have the least time-outs and speedy recovery are considered ideal especially for FUE. Other requirements include:
Scalp (tight): If your skin is not lax enough, you can benefit from Best hair transplant.
Body hair transplant: It works for body transplantation. Insufficient donor hair on the skin will require the surgeon to produce donor grafts from the body.
Supply of Donor hair: Having adequate balding-resistant hair grafts is always good for transplantation in the balding areas.
Hair Loss control: Second surgery can be expected if your hair loss is still occurring.
Results of FUE Hair Transplant:
See the Some Best Results of Hair Transplant Treatment at Dynamic Clinic Dubai UAE:
Goals:
Like other hair recovery techniques, Abu Dhabi hair transplant also aims at helping an individual regain lost hair. Other objectives associated with FUE are:
Getting a fuller and thicker hair back permanently
Limiting downtime as well as the recovery period
Techniques Available:
The following methods can be used to perform a hair transplant:
FUE Hair Transplant
Robotic Hair Transplant
Stem Cell FUE Hair Transplant
FUT Hair Transplant
Preparing:
For a successful Hair Transplant Clinic in Dubai & Abu Dhabi, preparation is important. Here is a list of things that you should be avoided prior to a successful surgery:
Stop taking blood thinners at least 15 days prior to the procedure.
Quit smoking at least 2-3 weeks before your surgery.
Stop consuming alcohol at least 1-2 weeks before your hair transplant is scheduled.
Fill all your prescriptions (both antibiotics and painkillers) well in advance.
Procedure:
Following are the steps involved in an FUE hair transplant:
Preparation of donor area
Anesthesia (donor site)
Donor hair extraction
Graft preparation
Anesthesia (recipient site)
Recipient area preparation
Graft insertion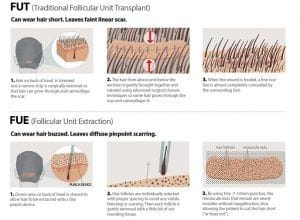 Recovery Process:
The scalp will hurt directly after the surgery.
Cold compression on the scalp is advised.
Consume pain medications directly after the medical procedure.
Sleep in a straight-up position for the first few nights.
Blood thinners, alcohol, smoking, and scratching the scalp should be avoided for 2-3 weeks after the procedure.
Benefits of Treatment:
Less invasive: FUE option is less invasive and removal of skin from the donor site is not essential.
Scar-less technique: There is no strip-cutting and so linear scar is not left at the donor site.
Use of body hair: It has the ability to produce hair follicles from almost any area of the body. This makes it a fascinating technique for those with serious balding.
Less downtime and discomfort: For those looking for minimal downtime after the surgery, FUE is ideal.
Quick recovery: As there are no long scars, the healing process is quite fast.
How Long the Results Will Last?
Because of the use of balding-resistant follicles in hair restoration surgery, quality is maintained even at their new site, and hair does not break or fall out. However, once they fall (being a part of the hair growth cycle), new hair will develop from the same follicle and the supply of hair would fill up.
Average Cost of Hair Transplant:
The Average Cost of Hair Transplant in Dubai & Abu Dhabi is AED 7,999. The minimum price is AED 6,999 and the maximum price is AED 15,000. It mainly depends on the expertise of the surgeon, and the number of grafts.
Hair Treatment Cost:
We are offering a price that one can not resist. Our clinic is best at it and assures quality service care with outstanding outcomes.
Let's learn about the cost per session in the table below:
| Hair Treatment | 1 Session | 3 Sessions | 4 Sessions |
| --- | --- | --- | --- |
| FUT Hair Transplant | Starts from 6,999 AED | – | – |
| FUE Hair Transplant | starts from 6,999 AED | – | – |
| Stem Cell Transplant | 1,500 AED | 3,150 AED | 4,150 AED |
| Hybrid Hair Transplant | It starts from 10,000 AED (Roughly) | – | – |
| PRP Hair Transplant | 700 AED | 1,750 AED | 1,980 AED |
| Alopecia Areata Treatment | It starts from 600 AED (Roughly) | – | – |
| Hair Fillers | 1,500 AED | 3,800 AED | 4,000 AED |
| Front Line Hair Fixing (Surgical) | 1,200 AED (per session) | – | – |
| Mesotherapy for Hair | 450 AED | 999 AED | 1,200 AED |
| Natural Hair Line through Transplant | Starts from AED 6,999 (per session) | – | – |
Note: It informs you that hair transplantation is accomplished by transferring hair follicles from the donor to the receiver's specified location. Each hair comprises three follicles, and the cost per hair is computed as 1hair=1dirham. Furthermore, keep in mind that the cost of each treatment varies depending upon the condition of the patient. So it is best to have a FREE consultation with your surgeon to know the exact cost of your treatment sessions.
Factors Affecting the Cost:
Here are the significant factors that influence the cost of Hair Treatment:
The extent of the bald spot.

The total number of grafts required.

The transplantation procedure.

The operation's quantity.

Competencies of the surgeon.

The surgeon's background.

The demand of the hair transplant clinic.

The clinic's setting.

Donor Grafted Hair to Body.

Assessment/Diagnosis Procedure.
Insurance Reimburses:
Because the hair restoration procedure is deemed cosmetic, the insurance carrier seems unable to cover the cost. Nonetheless, if an illness or injury causes hair loss, you may be eligible for compensation.
Our Clinic's Financial Plans:
A payment plan accompanies every surgical procedure that costs more than 10,000 AED. You will be automatically placed in our 0% EXP finance plan if the hair restoration treatment costs more than the advertised amount.
Hair Treatment at Dynamic Clinic Dubai:
Dynamic Clinic Dubai is a renowned cosmetic clinic dedicated to bringing smiles and encouraging a joyful, energetic existence. Our top-of-the-line technique, chosen by experts and ensures guaranteed outcomes, got great reviews. Our clinic stresses patient convenience and assures that patients are as relaxed as possible before, during, and after Invasive or non-invasive treatments.
Consult a Hair Transplant Surgeon:
You have seen how important the Best Hair Transplant in Dubai UAE Clinic procedure is for hair regrowth. If you are interested in it, you can learn more by speaking to one of our hair restoration surgeons. So call us now or fill our online form now to book an online consultation.