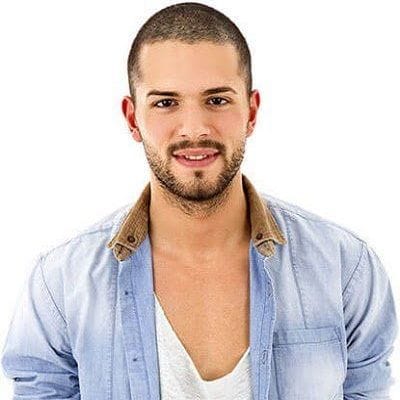 Best Hair Transplant in Dubai – FUT & FUE Hair Transplant:
Hair transplant is a safe and effective option to naturally restore hair growth. More and more people who want to restore hair growth now take hair transplant procedure. There are different methods to perform and it is important to go through these methods of hair transplantation in detail. If you want to undergo Hair Transplant in Dubai & Abu Dhabi Clinic, given below is an elaborated read into the process.
Are you a Candidate?
Individuals who wish to have least time-outs and speedy recovery are considered ideal especially for FUE. Other requirements include:
Scalp (tight): If your skin is not lax enough, you can benefit from Best hair transplant.
Body hair transplant: It works for body transplantation. Insufficient donor hair on the skin will require the surgeon to produce donor grafts from the body.
Supply of Donor hair: Having adequate balding resistant hair grafts is always good for transplantation in the balding areas.
Hair Loss control: Second surgery can be expected if your hair loss is still occurring.
Results of FUE Hair Transplant:
See the Some Best Results of Hair Transplant Treatment at Dynamic Clinic Dubai UAE: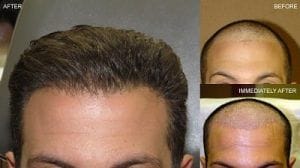 Goals:
Like other hair recovery techniques, Abu Dhabi hair transplant also aims at helping an individual regain lost hair. Other objectives associated with FUE are:
Getting a fuller and thicker hair back permanently
Limiting downtime as well as the recovery period
Techniques Available:
The following methods can be used to perform a hair transplant:
FUE Hair Transplant
Robotic Hair Transplant
Stem Cell FUE Hair Transplant
FUT Hair Transplant
Preparing:
For a successful Hair Transplant Clinic in Dubai & Abu Dhabi, preparation is important. Here is a list of things that you should be avoided prior to a successful surgery:
Stop taking blood thinners at least 15 days prior to the procedure.
Quit smoking at least 2-3 weeks before your surgery.
Stop consuming alcohol at least 1-2 weeks before your hair transplant is scheduled.
Fill all your prescriptions (both antibiotics and painkillers) well in advance.
Procedure:
Following are the steps involved in an FUE hair transplant:
Preparation of donor area
Anesthesia (donor site)
Donor hair extraction
Graft preparation
Anesthesia (recipient site)
Recipient area preparation
Graft insertion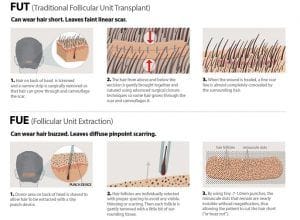 Recovery Process:
The scalp will hurt directly after the surgery.
Cold compression on the scalp is advised.
Consume pain medications directly after the medical procedure.
Sleep in a straight-up position for the first few nights.
Blood thinners, alcohol, smoking and scratching the scalp should be avoided for 2-3 weeks after the procedure.
Benefits of Treatment:
Less invasive: FUE option is less invasive and removal of skin from the donor site is not essential.
Scar-less technique: There is no strip-cutting and so linear scar is not left at the donor site.
Use of body hair: It has the ability to produce hair follicles from almost any area of the body. This makes it a fascinating technique for those with serious balding.
Less downtime and discomfort: For those looking for a minimal downtime after the surgery, FUE is ideal.
Quick recovery: As there are no long scars, the healing process is quite fast.
How Long the Results Will Last?
Because of the use of balding resistant follicles in hair restoration surgery, quality is maintained even at their new site and hair do not break or fall out. However, once they fall (being a part of the hair growth cycle), new hair will develop from the same follicle and the supply of hair would fill up.
Average Cost of Hair Transplant:
The average Cost of Hair Transplant in Dubai & Abu Dhabi is AED 7,999. The minimum price is AED 6,999 and the maximum price is AED 15,000. It mainly depends on the expertise of the surgeon, and the number of grafts.
Consult a Hair Transplant Surgeon:
You have seen how important Best Hair Transplant in Dubai UAE Clinic procedure is for hair regrowth. If you are interested in it, you can learn more by speaking to one of our hair restoration surgeons. So call us now or fill our online form now to book an online consultation.