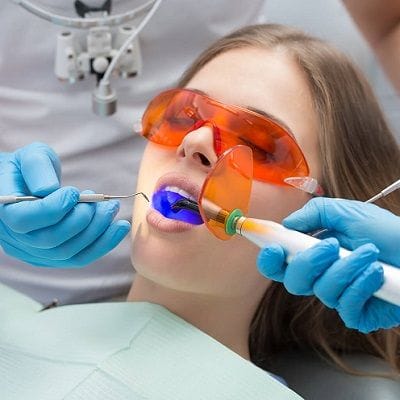 Laser Dentistry- Fearless and Pain-Free
A laser is the safest alternative to traditional dental tools.
The laser device is the most valuable contribution in the field of dentistry. Its powerful beam contacts the tissues and alters the teeth and gums to achieve the desired results. A variety of dental concerns can be tackled with this latest invention including teeth whitening, periodontal disease, and gum depigmentation, tooth decay, and so on.
Dynamic clinic's Laser Dentistry in Dubai & Abu Dhabi promises a comfortable and pain-free experience deprived of any needles or sharp drilling equipment. The most advanced Waterless technology is part of our laser services. We always strive to deliver the best dental care to our patients.
With Laser Dentistry and our skilled dentists, you can accomplish the secured dental results even faster without any pain, bleeding, and long recovery periods.
Applications of Laser Dentistry:
FDA has approved lasers to carry out the secured treatments for children and adults. It's an effective way to treat a variety of mouth problems on both teeth and gums. Even from intense complications to severe tissue difficulties, lasers are known perfect in every way. You can consider the following applications of lasers in dentistry. Please check out.
Hard Tissue Applications:
Cavity detection
Dental fillings
Tooth sensitivity minimization
Root canal preparation
Recontouring of bone
Results:
Soft Tissue Applications:
Gum contouring or reshaping
Improving muscle attachment
TMD treatment
Teeth whitening
Treating oral cancers
Nerve regeneration
Snore reduction
A Glimpse of our Laser Services:
Laser dentistry is a broad term that covers many dental problems.
Every aspect of dental-care can be enhanced with our latest laser devices and offered treatments. Our dental team has more than ten years of experience in providing the best dental care. Check out our popular services of Laser Dentistry in Dubai & Abu Dhabi:
1. Lower Level Laser Therapy:
Low-level therapy is the newly adopted technique in lasers. It relieves muscle tension and resumes nerve activity for improved dental health. This simply boosts up the wound healing as well as reduces the pain of gum and tooth even more easily.
2. Snore Reduction:
Loud snoring or sleep apnea usually occurs due to the overgrowth of tissue. Lasers challenge this problem by altering the throat tissue. This modern technique relieves breathing difficulties and provides peaceful sleep.
3. The Use of Lasers:
The laser device uses moderated beam to penetrate the underlying gum-tissues and teeth as well. This effective way out of dentistry handles a variety of problems. Regardless of daily routine dental concerns, lasers can also be used in removing a piece of cancer tissue.
This up-to-date treatment is found generally safe and effective for people of all ages.
Benefits of Lasers in Dentistry:
The major benefits of laser dentistry include:
Best for patients who have problems with anesthesia or standard equipment used by dentists
Stitches aren't involved
Quick procedure and speedy healing
Reduces the bacterial infections expected with traditional tools
No risk of damaged tissues
Get Laser Help from us!
If you consider yourself a dental victim and seek the utmost comfort and safety, then you may need Laser Dentistry in Dubai & Abu Dhabi. Incorporated techniques in its modern devices won't harm you even a bit.
Please let us know your query so we can guide you further.
Book your appointment.