Choose Rhinoplasty in Dubai & Abu Dhabi?
It is the fact that only some people are born with a perfectly-shaped nose while others live with an imperfect one. The perfection of the nose is as much important as of any other facial feature. It has a greater impact on one's physical appearance and also on his self-confidence. The nose can be called as a focal point of the face because it defines it and creates a beautiful balance among the facial features. It is important to mention that you are not the only one who wishes to reshape or resize the nose. So, don't worry it is not a bad thing if you are seeking for any cosmetic procedure for this purpose.
We have surgeons at our clinic who have years of experience in the aesthetic field. They have performed different cosmetic surgeries including Rhinoplasty in Dubai, Abu Dhabi & Sharjah for correcting the structural problems associated with your face.
Aim of Rhinoplasty:
Rhinoplasty, also known as nose job is an advanced surgical procedure done to correct, revise and reconstruct the nose according to the desires of the patient. This cosmetic surgery has made it possible for people to shape their nose into the one they want. Rhinoplasty Cost in Dubai can also deal with structural problems of the nose including birth defects, deformities, airway blockage, etc. The surgeon should be very careful while performing this complex surgery because even the small wrong step can ruin your entire appearance.
Aim of the Treatment:
A popular procedure designed to change the shape of the nose for fulling the aesthetic desires of the people. Through Rhinoplasty you are able to get an aesthetically pleasing nose thus it improves the overall facial appearance. It is estimated that about 20% of nose jobs require revision to maintain the results. A revision procedure is more costly and complex than regular rhinoplasty. Before undergoing the procedure you need to have a thorough consultation with your surgeon to inform him about your previous medical records. It can treat deviated septum and a drooping nose tip as well.
Candidate:
You can choose Rhinoplasty Nose Reshaping in Dubai, Abu Dhabi & Sharjah if,
You have an imperfect nose
You want to increase or decrease the size of your nostrils
Can repair your damaged nose caused by injury
Straighten the crooked nose by correcting the undesired humps
Can produce significant changes in nasal tip
A Perfect Prospect:
You are a perfect prospect of the treatment if,
You are physically fit and healthy
You are 20 years old or above
You are a non-smoker and not suffering from any serious illness
You have practical expectations about tsatishe results of rhinoplasty nose reshaping
You are mentally prepared for the surgery
Our Nose Reshaping Results:
Slight changes (often measured in millimeters) are observed right after the surgery also see the Non Surgical Nose Job. These changes make a large difference in how your nose looks. Usually, it takes a year to fully refine your new nasal contour and with the passage of time, you'll notice the gradual changes in appearance.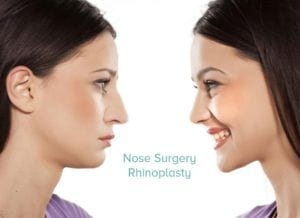 Benefits:
Improves the symmetry of the nose
Produce drastic changes in the appearance of the nose
Help the patient in regaining the lost confidence
Can reduce and augment the structures of the nose
Creates a beautiful balance among the facial features
Corrects the angle between the nose and the lip
It will boost up your confidence and self-esteem level
It will improve your facial harmony
It's a completely safe procedure and doesn't cause side effects
Skin allergies and post-operative complications
Preparation Before Rhinoplasty Nose Reshaping:
Before the surgery, you are advised to take certain steps to extract the best results out of it.
Do not smoke or drink alcoholic beverages because it can slow down the healing process.
Discontinue taking aspirin or ibuprofen and they interfere with the body's normal blood clotting ability.
Avoid taking herbal supplements because they interact negatively with anesthesia.
Talk to a board-certified plastic surgeon and tell him your expected results
Avoid doing strenuous activities for at least 3 to 4 weeks before the surgery
Inform your surgeon about every medicine that you are currently using while preparing for rhinoplasty.
Procedure:
You should be very careful very while choosing the surgeon for the Rhinoplasty nose reshaping because it is a complex cosmetic procedure that requires great expertise of the surgeon. There are two types of Rhinoplasty nose reshaping surgery;
Non-surgical Rhinoplasty
Open Rhinoplasty surgery
Non-Surgical Rhinoplasty:
For making some slight changes in the shape of the nose, fillers are injected. A layer type material is inserted in the nose to make it's surface smooth, free from bumps and humps. It is a lunch procedure performed in the physician's office. Patients can get the desired shape of name with this non-surgical procedure.
Open Rhinoplasty Surgery:
A highly invasive surgical procedure that works by employing a small bridging incision on the columella, to connect the right and left nostril incisions. The primary benefit of the open Rhinoplasty nose reshaping is improved accuracy for reshaping the framework of the nose to achieve desired contouring.
Post-Operative Care Guidelines of Rhinoplasty:
After undergoing the Rhinoplasty in Dubai and Abu Dhabi, the surgeon will instruct you to properly follow these Post-Operative Care Guidelines:
You will have to avoid eating high acidic foods like; lemon, oranges, and tomatoes as they may irritate your wounds.
You will have to avoid exertion, strenuous activities, and sweaty workouts for a few days, after undergoing the procedure.
You will have to use an antibacterial mouthwash to rinse your mouth.
You will have to use ice packs on your treated area, to reduce pain, bruising and swelling after getting Rhinoplasty.
You will have to take prescribed medicines regularly, according to the surgeon's directions.
After the surgery, follow a diet plan that is recommended by your doctor
You will have to keep your head elevated for a couple of days while resting or as per the surgeon's guidelines, after undergoing the Lip Reduction procedure.
Cost of Rhinoplasty Dubai UAE:
In Dubai, the cost of Rhinoplasty ranges from AED 6,999 to AED 11,999 depending on the patient's requirements, the technique used, location of the clinic, surgeon's fee, and the type of anesthesia used during operation.
Consultation:
If you want to permanently enhance the look of the nose with Rhinoplasty in Dubai, Abu Dhabi & Sharjah at an affordable cost without suffering from botched results, feel free to consult Dynamic Clinic Dubai to consider nose reshaping.