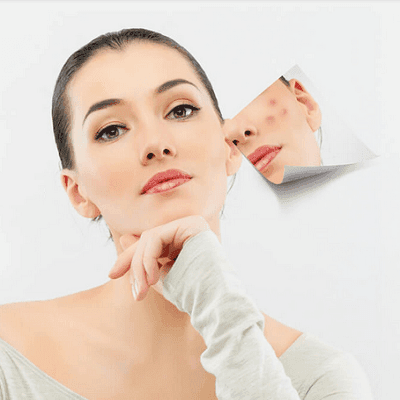 Why Choose Acne Scar Treatment Dubai & Abu Dhabi?
Acne scars are the result of acne – a chronic inflammatory skin concern. However, in appearance, they can be rough, flat, raised, or recessed. Until today, treatment options were pretty limited to home remedies, or extreme procedures such as excision. However, it is now possible to bring glow and beauty to the skin with minimally invasive, FDA-approved therapies that impressively correct acne scars, improve skin health, and increase confidence. In addition, they also fight against wrinkles and thin skin that occurs due to natural aging.
Aim of Treatment:
Office-based treatments may be key to keeping up healthy skin. Your skin can now capture a new glow and vitality in the hands of experts at Dynamic Clinic. The main focus is on enhancing the skin quality and delaying the aging process, ensuring you skip that point where you require surgery. Our dermatologists combine invasive methods, and oral & topical drugs to strengthen and reactivate dead skin cells. The end result is smooth, clear, healthy, and hydrated skin.
A few Acne problems are permanent while others go away over time. To get rid of those deep, stubborn scars, it's necessary to seek out outside help. The aim of Acne Scars Treatment in Dubai, Abu Dhabi & Sharjah is to reduce Scar Tissue buildup with surgical and non-surgical techniques. It incredibly restores healthier and more beautiful skin. Plus, it increases the self-esteem and confidence level of a person.
Results of Acne Scar Treatment:
It's worth pointing out that acne scar removal is not a single-session therapy. You need to undergo a course of treatment that includes a number of sessions, possibly 5 or 6. However, the number of cycles varies greatly based on the results you desire.
Nonetheless, as you take the recommended sessions, skin health improves. The noticeable acne scars fade which in turn gives you better, healthier, and younger-looking skin.
Who Is The Candidate?
Anyway, in the beginning, you have to double-check whether this is appropriate for you. In general, the five important preferred candidate attributes are:
Stable medical state.
Mild to moderate acne scars.
Realistic expectations.
Age of 20 or above.
Maturity.
In other quarters, if you have any serious disease such as asthma, diabetes, cancer, etc. this may not be a good choice for you. Likewise, it's not safe to have this treatment if you are pregnant, breastfeeding, or under 20 years old. 
Preparation:
It's best to make an appointment with the dermatologist if you have already decided on Acne Scar Removal Treatment in Dubai & Abu Dhabi that you would like to have. In that appointment, he will most likely give you instructions on how to care for your scars to prevent further recessions.
Benefits:
The unique advantage of this skin procedure is that it not only reduces acne scars but also fixes skin concerns caused by aging. Hence, many of the patients choose to have their aging signs reversed, resulting in better skin health and improved facial profile overall.
Sufferers achieve clear and rejuvenated skin for a longer period of time.
Multiple treatments can be performed at the same time to get better outcomes.
Recovery is faster and smoother than surgical options. You are likely to go back to work about an hour after the treatment.
It boosts the wound healing mechanism and increases confidence levels.
Best Treatments for Acne Scarring?
If your acne scars have failed to respond to home remedies, it's time to consider office-based treatments. At Dynamic Clinic, we offer comprehensive treatment plans to our clients as everyone has different aesthetic desires.
However, the best treatments to remove scars include:
Laser Therapy:
It helps to correct mild to moderate Acne Scars. Laser beam resurfaces the damaged coverings of the skin in order to expose firmer and clearer skin. Anyway, please note it takes more than one session to make the desired change, consequently, it is a little bit more expensive than others.
Chemical Peel:
Repeated practice of chemical peels can play a vital role in diminishing acne scars. Generally, the doctor uses trichloroacetic acid and salicylic acid for this purpose. Anyway, like other non-invasive scar removal treatments, it also requires multiple visits to the doctor's office.
Punch Excision:
You can go for punch excision if you desire an instant improvement in your acne scars. This treatment involves utilizing a sharp blade-like tool to cut into the skin and extract scar tissues. It is invasive therefore, long-term recovery is likely to occur after it.
Aftercare-Dos and Don'ts:
There is an increased risk of skin inflammation following the treatment. Though the inflammation is usually mild, your negligence can make it become severe. However, the following dos and don'ts are going to help you a lot with that of course.
Don't use over-the-counter drugs for at least seven days after the treatment.
Skin protection from sun damage is surely important.
Avoid strenuous activities following Acne Scars Treatment in Dubai.
Don't touch or pick the treatment site. Doing so can prevent infection.
Don't forget the maintenance sessions. They are necessary to keep the positive effects going.
Recovery:
When it comes to the recovery timeline, it's not too tough since most of the scars treatments we offer are non-invasive. And for that reason, patients fully recover within a week to 14 days. Although these treatments are not likely to cause severe complications, you may experience minor side effects. For instance, mild skin inflammation is always a possibility.
Cost of Acne Scars Treatment:
The average Cost of Acne Scars Treatment in Dubai UAE starts from AED 1,500 to AED 6,000 per session. However, the price might vary based on the factors such as skin type, the technique used, the doctor's reputation, and the location of the clinic.
Best Acne Scar Specialist:
Make a Free Appointment!
If you wish to go into further detail about Acne Scar Treatment in Dubai, Abu Dhabi & Sharjah, please consult with our experts at Dynamic Aesthetic Clinic. You just have to fill out the consultation form or call us to book an appointment.