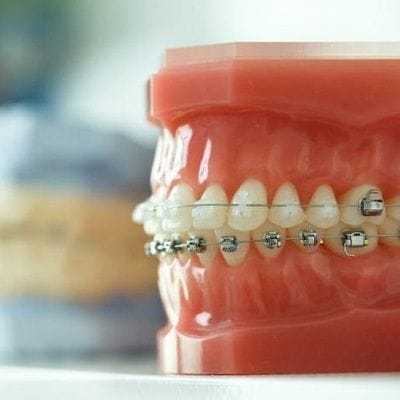 Fix your smile, Change your Life Forever!
Ranging from crowns and fillings to aligners and braces – Dental Appliance is any prosthesis that helps you move, support or replace your damaged teeth. Sometimes, when installed on a portion or the entire dental arch, the disharmony of the upper and lower jaws is also corrected. So hurry up! Make your teeth get along well with each other.
Read on to learn different dental appliances in Dubai, as well as possible advantages and disadvantages.
Types:
Dental appliances are normally used by dentists to correct bite problems. These devices generally fall into two categories:
Fixed appliances – include metal braces, and retainers that accurately move the teeth in the right position. They work by altering the development of the jaws. Their overall goal is to straighten the teeth and give you a perfect bite.
Removable appliances – Used when teeth require additional support. Most popular removable dental appliances include sports guards, headgears, retainers, night guards, and glides. While they are less expensive than permanent fixtures, they tend to produce short-term results.
Purpose:
Problems for which dental appliances can be used include but are not limited to:
Crooked teeth
Protrusion
Misaligned jaws
Widely spaced teeth
Missing tooth
Psychological problems associated with unattractive teeth
Results:
Results will vary depending on many things including the type of device used, the severity of malocclusion, patient age, and bone density.
Fixed appliance therapy is fairly long-lasting. In general, fuller results take approximately two to three years to show up.
Contrastingly, the removable appliance in Dubai will only take six to eight months to give the desired results.
Note: Although permanent fixtures are more expensive and slower, they are durable and help you keep the desired results for years to come.
How do I know if a Dental Appliance will work for me?
If you say "yes" to any of the following questions, it is important that you consult with your physician before making an effort to receive any dental appliance:
Do you have any medical conditions?
Do you suffer from really poor oral health?
Is your malocclusion too severe?
Procedure:
The exact steps of the procedure will vary depending on the type of appliance chosen. Contact a dental professional for more details on this subject.
Pros and Cons:
Pros:
Treats dental problems
Most of them are simple to use
Improves smile, and straightens crooked teeth
Maintains oral health and offers long-lasting results
Can be tailor-fitted to unique needs
Cons:
Most expensive options
Can lead to serious periodontal diseases
Allergic reactions can occur when teeth are not properly taken care of
Aftercare:
It's important to commit to healthy oral habits including:
You should be careful while you floss or brush your teeth
Rinsing with warm salt-water can be very helpful
See your dentist regularly for progress reports and amendments
If you have a removable prosthesis, please clean it twice a day
Dental wax may help. Use it around your gums
My Options?
After an investigation, here are some of the most popular dental appliances that you can try:
Retainers
Rubber bands
Headgear
Herbst
Braces
Palatal Expander
Positioners
Spacers
Cost?
Here at Dynamic clinic, Dr. Rasha Mhanna says dental appliance in Dubai generally costs between AED 3000 to AED 22,000. This price includes follow-ups, dentist's visits, and mouthpiece.
Note: Thankfully, many insurance plans contribute to the price. 
Why Choose us?
Here at the dynamic clinic, we make sure that our patients have the best results and care possible. By working with you to help decide the best treatment plan for your dental needs, we can give you the smile of your dreams in no time. Beyond that, we provide payment options so that everyone can take advantage of our treatments. All things considered, if you are willing to improve your smile, we can help.
Book A Free Appointment:
Give us a Call or Fill out the Consultation form to Schedule your Free Appointment.