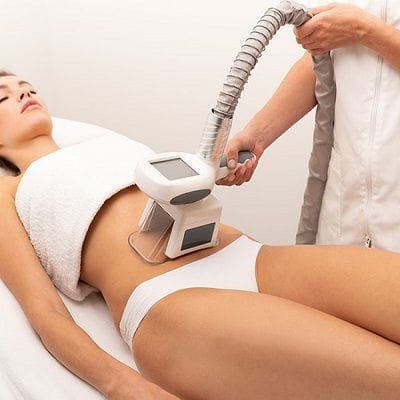 Body Contouring:
You can undergo Cool Sculpting in Dubai, Abu Dhabi & Sharjah if you are looking for a non-surgical treatment to improve your body shape. It is FDA-cleared treatment and completely safe to use. By undergoing this non-invasive sculpting procedure, an individual can mold the body in any shape he/she wants. It enhances a person's overall appearance and boost self-confidence. Continue reading this article to know what actually cool sculpting is and how does it work?
What is Cool-Sculpting?
Cool sculpting is the world's number#1 cryolipolysis treatment to permanently remove Stubborn Fat and excess skin from the body. It uses an innovative technique to sculpt the body in the desired shape. Instead of heating the fat cells, they are frozen at a specific temperature. The controlled cooling applied to the targeted fat destroys its cells which are then eliminated through the body's natural lymphatic system.
Results:
Typically, the results of cool sculpting appear after about two weeks and gradually improves over the next few months. So, by undergoing this treatment, you instantly get rid of fat and look and feel comfortable in any clothes you want. The results are impressive, permanent, and natural-looking like other sculpting techniques but unlike these options, it requires only one sitting to deliver the desired outcome. But even though it destroys the fat cells permanently, there are a lot of chances of the formation of new ones.
Who is the Candidate?
Any male or female who wants to improve the body shape non-invasively can get benefit from Cool sculpting in Dubai. You are an ideal candidate for Cool sculpting if,
You are not suffering from any serious medical condition such as ryoglobulinemia, diabetes, cold agglutinin disease, or asthma.
You are not pregnant, lactating women or trying to be pregnant
You are 19 years older or above
You are not obese and your weight is not too far from an ideal weight
You want to get rid of stubborn body fat non-surgically
You have distinct fat bulges
Your skin is tight and healthy
You want to define your body contours
Benefits:
Key benefits of Cool sculpting in Dubai & Abu Dhabi are,
The treatment is FDA-approved, safe and very effective for fat loss
Destroys the unwanted fat cells without causing any harm to the body
There is no recovery period associated with this procedure
Easy to perform and painless procedure
No risk of permanent, deep scars
Very helpful in eliminating cellulite from the skin
Ability to remove fat from any area
Preparation:
While cool sculpting is non-invasive and completely safe, you have to use some tips before undergoing it. Some important pre-procedural instructions of Cool sculpting are,
It is important to talk to your doctor about your medical history
Make sure your body is healthy and ready to adopt changes
Before the procedure, do not take aspirin, ibuprofen or any other anti-inflammatory as it can affect your recovery
Do not undergo any other Body sculpting treatment for about 2 months before the procedure
Procedure:
A special handheld device is used in a cool sculpting procedure. During the treatment, the medical practitioner precisely applies the applicator to the target area. The controlled cooling generated from the device treats stubborn fat in different areas in one go without causing any harm to the skin. While having this treatment, the patient experiences feelings of pinching, itching, and pulling. So, in the end, the targeted area is gently massaged to reduce these undesirable effects.
Aftercare:
According to some expert medical practitioners, it can take three to four months before you see a visible reduction in your fat folds. But the good thing is that you don't have to face long-term side-effects after your treatment. Also, you can use the following aftercare tips to make your recovery easier and simpler.
It is better to wear loose-fitting clothes for the first few weeks after the treatment
Complete bed rest should be avoided because it makes the inflammation severe
In case you experience any major side-effect, you should contact your service provider immediately
Do not drink alcohol or smoke cigarettes for at least a month after your Cool sculpting procedure
Cool Sculpting Recovery:
There is no downtime linked to cool sculpting. Most patients are allowed to return to routine activities right after getting the treatment. You can expect to see mild swelling, bruising, soreness, and discomfort in the treated area. But fortunately, these side-effects are short-term and subside within a few weeks.
Wrapping up!
Cool sculpting is effective for almost every healthy individual. It is much better than other Non-Invasive Fat-Elimination procedures because fat folds eliminated with cool sculpting never return. Another major benefit of this treatment is that there is no scarring after it.
Book an Appointment:
If you are interested in CoolSculpting in Dubai, Abu Dhabi & Sharjah, fill out our simple online consultation form or contact us through the phone.