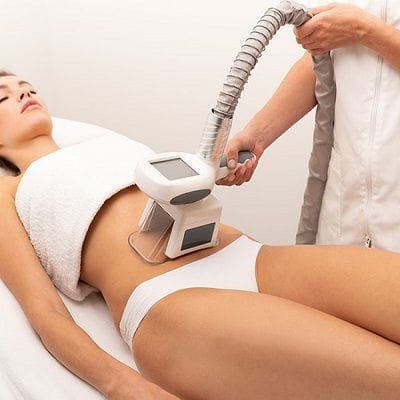 Weight gain is a major problem that people are facing. Its frequency is increasing in youngsters progressively. Eating a lot more than you need is not the only cause of weight gain. Other factors that are causing this issue are depression, anxiety, and stress. And this problem evolves majorly in the young generation. Secondly, there are not enough exercises or jogging practices in daily life. That eventually causes them to gain weight. They spare no effort to lose weight but are of no use. Cosmetic surgeons have come up with a treatment that is not invasive and painful. Coolsculpting in Dubai helps to reduce weight without any kind of pain.
What is Coolsculpting in Dubai?
This procedure refers to as Cryolipolysis. The word suggests that it uses cold factors to break the fats in the body. It is a non-invasive Laser Treatment that helps to destroy the fats inside the body. The damaged dead cells then excrete out from the body. 
The surgeon uses a device that cools down the specific target area. The cool effect result in the breakdown of fats and lipids. They then absorb in the blood and discharge out from the body.
Aim of the Procedure:
Individuals mostly opt for exercise and diet to lose weight. But some fats do not remove after the struggles. The aim of Coolsculpting Fat Freezing in Dubai & Abu Dhabi is to remove these stubborn fats. It cools them at a particular temperature and destroys them. It is a non-invasive and non-surgical procedure that helps to lose fats without harming the surrounding tissue.
Results:
The results of this procedure vary according to the person. It does not provide instant effects after the treatment. The results may appear after 2 weeks of treatment. This treatment provides natural-looking results that make you feel more comfortable. Unlike other cosmetic surgeries, it is not invasive and only requires one session to complete the procedure. However, the number of sessions may vary according to the area and fats deposited in that area.
Ideal Candidates for Coolsculpting in Dubai:
The candidates undergoing Cryolipolysis Dubai should have an idea that this procedure is not for weight loss. It only helps to remove the fats from different areas of the body. The person who will be eligible for this procedure should have the following characteristics:
The person who has an ideal body weight.

Fat deposition in different areas of the body.

Wants to achieve perfect body contours.

To lose stubborn fats. 

Do not have any kind of general medical conditions.

Not pregnant or in the lactation period.

Age is above 19 years.
Pre-Procedure:
Before initiating the treatment your doctor will ask you to take care of yourself. He will suggest you some measures to follow before getting the treatment:
Consult your doctor before initiating the treatment.

Do tell him about any medical condition you are facing.

Avoid taking NSAIDs and anti-inflammatory medications.

Do not take any treatment that relates to body sculpting two months before the treatment.
Procedure:
This treatment is a non-surgical procedure but still requires the supervision of experts. Our certified surgeons perform this treatment with their team. They perform this procedure in steps as follows:
The doctor will consult you and ask about your desired goals. He will also make sure that you are not facing any medical conditions. Moreover, also discuss the risk that associates with this procedure.

He will cleanse the target area and marks them.

Puts the device on the marked area.

The cooling process starts. It will slowly and steadily freeze the fat cell that removes through the body by the natural process.

Follow up with your doctor as he recommends.
Common Areas:
CoolSculpting works and is useful in almost every part of the body. But the common areas that can show obvious results are:
Chin area.

Upper arm.

Legs.

Inner thighs.

Flanks area.

Back. 
AfterCare:
Coolsculpting in Dubai, Abu Dhabi & Sharjah does not show instant effects. It helps to demolish the fats but the results start appearing after 2-3 weeks. Because the body needs some time to remove the dead cells of the fat. This procedure does not require a long time recovery phase. Aftercare measures are still necessary to follow so that the treatment is effective and long-lasting:
Avoid sun exposure to prevent damage to the treated area from UV radiation.

Make sure you drink enough water to keep yourself hydrated.

Exercise regularly because the removed fat does not return but new fat cells can accumulate.

Massage the treated to increase circulation and decrease swelling.

Do not wear tight clothes for 2 weeks post-treatment.

Walk daily.

If you face any kind of side effects consult your doctors immediately.
Benefits of Coolsculpting in Dubai:
This technique of weight loss provides several benefits. It is a cost-effective procedure that helps you lose weight without any prolonged recovery time.
It is a non-invasive procedure.

Destructs the stubborn fat cells. 

Do not provide any harm to the surrounding cells.

Non-surgical and cost-effective procedure.

Safe and effective treatment.

Can help remove the fat cells from any body part.
Cost of Coolsculpting in Dubai:
Coolsculpting Fat Freezing is a procedure that mostly completes in one session. But the number of sessions varies according to the target area and the fat deposition. The Cost of CoolSculpting in Dubai can differ according to the number of sessions. However, it can range from AED 700 – AED 999.
Book a Free Consultation!
Every healthy individual can opt for this procedure. The procedure gives permanent results and causes no scarring after the treatment. If you want to have non-intrusive fat elimination surgery. Then fill out the appointment form now and book a consultation to confer with our doctors.