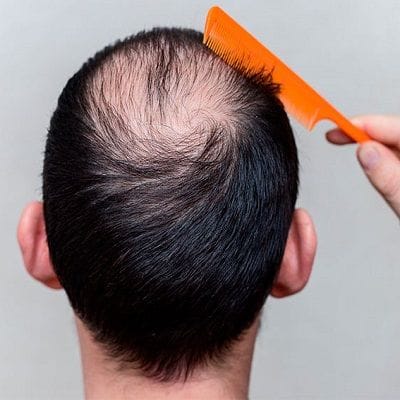 Hair transplant is a permanent hair restoration technique that delivers better results to the sufferers as compared to other hair treatments such as PRP, stem cell, etc. Artistic vertex design is a little different from traditional transplant in a way that it does not involve "harvest or plant" anywhere on the scalp, rather than that there is a pattern or design that has to be followed to obtain natural-looking results.
Research has shown that by the age of 35 years, about 40% of men experience significant hair loss. This percentage increases to 65% when they cross their 60's. Hair loss has to be treated early otherwise it may lead to complete baldness. If you have bald areas on your scalp, this treatment is so right for you.
Aim of the Treatment:
Crown Hair Transplant in Dubai & Abu Dhabi is helping people restore lost hair by planting hair specifically on the vertex of the head (crown area). It is mostly suitable for men with stage 3 hair loss measured on the Norwood scale.
Candidate:
Before undergoing an artistic vertex design hair transplant in Dubai, you have to check whether you fulfill the candidacy criteria or not:
You have to be above 20 years old to get this transplant.
You have bald spots or thin hair on specific areas of the scalp.
You want to restore hair on the crown area.
You are looking for a permanent solution to your hair loss problem.
Benefits:
Artistic vertex design in Dubai provides tremendous benefits to sufferers. Some of them are listed below:
Delivers permanent and natural results to the victims of hair loss.
Restores hair growth at bald areas of the scalp.
Helps you get a natural and appealing aesthetic look on the scalp.
Preparation:
If you are planning to undergo artistic vertex design treatment to restore your hair, you have to prepare yourself and your scalp for the treatment. Common instructions that most surgeons give are:
Avoid taking blood thinners weeks prior to the treatment.
Quit smoking and avoid taking alcoholic beverages, both of them can slow down the healing process.
Get all your tests done and fill in the prescriptions in advance.
Discontinue taking vitamins, especially vitamin E because it can slow down the recovery process.
Procedure:
During the procedure, the foremost duty of the surgeon is to determine the exact location and angle where the hair needs to be planted otherwise the results will not be natural-looking. The surgeon starts the procedure by choosing a suitable hair growth design depending upon the area where hairs need to be implanted and also on the personality of the person. Following steps are performed during the procedure,
Just like traditional transplant, Artistic vertex design also has two phases:
Grafts harvesting phase.
Grafts transplantation phase.
For transplantation, the surgeon can use FUE or FUT to extract healthy follicular units from the donor area. The recipient site is carefully marked in a way that the angle of every single graft to be transplanted is kept in mind while preparing the crown area for plantation. Incisions are created in the crown area and prepared Grafts are inserted into them which look like natural hair.
Aftercare:
After getting Crown Hair Transplant in Dubai & Abu Dhabi you have to follow the post-operation instructions of the surgeon to get better results and quick recovery:
Swelling and redness may appear so you can use cold compressions to alleviate them.
Apply the topical medications to the scalp as per the instructions of the surgeon.
Avoid scratching or massaging your head for at least 4-7 days after the treatment.
Avoid taking a bath for at least 3 to 4 days after the treatment.
Recovery:
The patient requires a time period of 8 – 10 days for complete recovery and better healing. Take off from your work so that your scalp will recover more quickly. The transplanted hair can be treated in the same way as you treat the natural hair.
Results:
After a few days, the transplanted hair will fall off and new hairs will start to grow in the crown area. Significant results will be seen after 3 months while final results can take up to a year to become noticeable. 2000 to 3000 grafts are sufficient to deliver the best possible results of the treatment. The results produced by artistic vertex design hair transplant are better than traditional transplant because it helps you grow hair according to the specified crown design.
Book a Free Appointment:
To know more details of the procedure you have to meet our expert trichologist. Book your appointment now by filling in the online consultation form provided to you on our website. We are here to help you get rid of your hair problems. We are offering Artistic Vertex Design in Dubai, Abu Dhabi & Sharjah at an affordable cost.