What do you Know About Hydrafacial?
It's pretty hard to find a skin resurfacing treatment that works for all skin types with zero down-time. Today, Hydrafacial Treatment in Dubai, Abu Dhabi & Sharjah is the most soothing skin rejuvenation procedure that works by cleansing, hydrating, detoxifying, and exfoliating. For those unfamiliar, this procedure infuses safe, potent, and powerful serums custom-fit to one's particular skin needs for refining the firmness, texture, and radiance of the skin. But like any element of health, skin also demands constant attention – not a one-time fix also see the Non Cosmetic Laser Treatment.
Benefits:
Cleanses skin, leaving you with smoother, glowing skin
Breaks oils and dirt to unclog abnormal pores
Vacuums-out blackheads
Used serum nourishes, hydrates, and plumps the skin to some extent
Decreases the appearance of sunspots
Delivers more hydrated, and clear complexion
Encourages collagen creation to present a youthful texture
Evens the tones, texture, Pigmentation and lessens enlarged pores
Results of Hydrafacial Dubai:
Instant, noticeable, and long-lasting outcomes are observed after hydrafacial. It results in fixing a variety of skin problems including oily skin, spots, large pores, and hyperpigmentation. Also, this cosmetic treatment eradicates dead skin cells while simultaneously infusing new skin cells.
It does this with the help of cleansing and potent serums. Hydrafacial goes beyond what your typical spa facial can do. Keep in mind, once you get healthy and even skin tone it will remain healthy as long as you take care from direct sun exposure and such glowing results will continue to make you feel youthful all year long.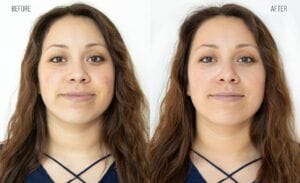 Who Is Candidate?
Every girl wishes to have neat, youthful, and blemishes free skin. Today, you can surely achieve your goal just by undergoing a few sessions of Hydrafacial. Both men and women can get rid of dead skin cells or impurities by undergoing this treatment. You can be a perfect candidate for the treatment if you:
have acne, oily or congested skin
want to clean your clogged pores
have lost skin firmness, clarity, or elasticity
want your skin to look clean, smooth, young, and refreshed
are facing hyperpigmentation, LED Light or uneven skin
Aim of Treatment:
Hydrafacial Treatment in Dubai, Abu Dhabi & Sharjah majorly aims to infuse the dermis with wetness and nutrients at its deepest levels. It is considered to be one of the latest innovations in non-laser skin resurfacing to create a flatter and more vibrant skin all across the treated sites. Ethnic, oily, dry, rough, thin, and aging skin can be alleviated with this non-invasive technique. You can make it a regular part of your ongoing skin maintenance plans to nourish your skin throughout.
Technique We Use:
The procedure comprises an easy and comfortable technique that takes only about 30 minutes. Four steps are performed moderately to undertake all skin's needs at one time:
A sophisticated tool is used for exfoliating the skin to eradicate the outermost dead skin debris. It is done in order to prepare the skin for further treatment.
For removing additional impurities, glycolic and salicylic acid are combined and used as a light chemical peel. This gives rise to greater absorption of hydrating agents. One of the major concerns is, this peel doesn't cause any discomfort like the other ones.
Furthermore, a suction tool is used which plays a greater role in eliminating the residual impurities from the pores creating a smoother, cleaner, and finer skin surface.
In the last step, the tool infuses hyaluronic acid and other ingredients deeper into the dermal layers.
Recovery:
You can easily follow your routine activities following this treatment. Further, there will be no redness, bruising, or anything like that leading to no long-term recovery and adverse effects. Simply speaking, the skin will look revitalized and continue to be rinsed and hydrated after hydrafacial.
Cost of HydraFacial in Dubai:
The average Cost of Hydrafacial in Dubai & Abu Dhabi varies from AED 499 to AED 700. The price includes the dermatologist's fee, the number of treatments, and the number of skin problems to be treated.
The Take-Away
This is one of the most popular in-office facial rejuvenation procedures right now. It is quick, simple, requiring just 15 to 20 minutes to complete. It targets skin aging concerns and makes a notable improvement in skin tone. Besides, it is safe since it uses approved serums in the process. Anyhow, when it comes to side-effects, they are minimal and short-term. For most patients, they subside within 24 hours.
Schedule a Free Consultation:
If you want to know more about what Hydrafacial in Dubai, Abu Dhabi & Sharjah can do for you, contact us to schedule a consultation. We will be happy to answer your queries and issues regarding the treatment. Fill in the consultation form given below and give your skin the attention it deserves. We encourage you to visit Dynamic Cosmetic clinic first before deciding on any cosmetic treatment.