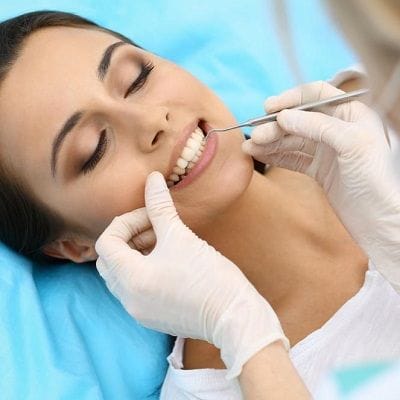 Restorative dentistry aims to repair and restore damaged or lost teeth. Any dental procedure involving teeth replacement or repair is included in restorative dentistry. Although restorative dentistry intends to alleviate the oral conditions of a person, chiefly, it focuses on treating cavities. The term is self-explanatory; it elucidates that this dental field targets on replacing the damaged teeth to restore the natural look. A dentist may often have to take on a multifaceted approach towards a dental problem, primarily if the case is classified under restorative dentistry. Therefore, a dentist will take help from other specialists, belonging to the field like prosthodontics, endodontics, etc., to repair a damaged tooth.
Sometimes esthetic dentistry and restorative dentistry are confused. While some procedures may be familiar to the two branches, the purposes differ. Esthetic dentistry aims to give you an enhanced overall appearance for aesthetic purposes. This may include replacing teeth that are discolored, damaged, broken, etc. On the other hand, Restorative dentistry is solely concerned with the oral well-being of the patient. A patient's look may or may not enhance in such a case. The purpose of this branch, however, is not to enhance looks.
Procedures
Restorative dental treatments focus on rescuing a tooth from trauma. The procedures and treatments included in this field are putting dental implants, dental crowns, dental filling, dental bridges.
Dental Crowns
Dental crowns are teeth resembling cap-like restorations that replace a missing tooth and act as a substitute for the natural one. The teeth structures eliminated during procedures such as root canal or fracture are restored through crowns. A dental crown restores the natural appearance of a lost tooth and provides cover to the material underneath, such as a dental filling. A dentist examines you before determining if you qualify for dental crowns. In some cases, people who opt for dental filling in Dubai may need to get a dental crown over them.
Dental Bridges
Dental bridges aim to bridge the gap between teeth. Dental bridge is opted when more than one tooth is missing. They are opted in the cases of extreme dental decay or extractions. If you have missing teeth, you should consult your doctor to know if you qualify for dental bridge. 
Dental Filling
Dental fillings include the materials inserted after a decayed tooth has been removed. The void that a removed tooth leaves behind is filled by dental fillings. Previously, amalgam fillings were employed to fill a tooth's place. However, after their hazards have been understood, dental amalgam removal is rapidly being opted for the procedure.
Dental Implants
Dental implants are a famous tool employed to replace a permanently lost tooth. They are more expensive than dental bridges. In this procedure, an artificial tooth is surgically placed in the place of a missing one.
Why Is Restorative Dentistry Important?
One cannot go on living without teeth. If any of your teeth are lost for any reason, it will become a necessity to get them replaced, especially if a tooth has experienced trauma or injury. The importance of dental restorative services lies in the functions that it performs. Restorative dentistry will not only help restore and repair a missing tooth, but it will also help you regain your confidence. People may suffer from self-esteem issues after having experienced teeth loss. 
Also, restorative dentistry and esthetic dentistry can provide dental reconstruction, which is a process that includes rebuilding an individual's teeth for cosmetic and oral health-related purposes. Restorative dentistry has become a necessity for decades now. It ensures a patient's oral well-being. 
Dental Restoration Cost
The cost of dental restoration is mainly determined by the type of procedure that you recommend. Then factors such as the location of your clinic and your insurance policy may affect the cost of dental restoration. This implies that restorative dentistry cost in Dubai is variable. At Dynamic Clinic, if you opt for surgical placement of dental implants, it will cost you around AED 3000, while dental filling and crown placement will be determined as per consultation with your dentist. If you are considering any procedure, you should ask for the exact price from your surgeon beforehand.
Results
The results of restorative dentistry in Dubai are pretty satisfying. The clients of Dynamic Clinic have given overwhelming feedback about the restorative services that they opted for. In addition, depending on the procedure you have opted for, the longevity varies. For instance, a dental crown will last for ten years or more on average. Dental resin fillings are likely to last for about five to seven years. Likewise, although the expected results may vary, restorative dentistry offers pretty long-lasting procedures. The results of all these procedures are quick. If need be, your dentist will inform you regarding the precautions to be taken initially.
Schedule for Dental Consultation
For further details and queries, contact Dynamic Clinic for a dental consultation. We offer a FREE initial consultation to our clients. All you have to do is book an appointment with us by calling or filling out this short form. You can get in touch with highly qualified dentists who can guide you according to the issue you encounter.