Dimple is viewed as a symbol of both beauty and perfection!
Why Choose Dimple Creation Dubai & Abu Dhabi?
Medical advancements in science have made it possible to create dimples. There are many ongoing modern techniques of Dimple Creation Surgery in Dubai & Abu Dhabi available that can give you the dimples you love. Read on to find out what works best for you.
Results and Benefits:
Benefits:
Brightens smile and adds character
Leaves no scar on the outside of the skin
Enhances facial beauty and expression
Creates most natural appearing dimples
Involves creation of a small and painless incision
Designs a dimple in the inner not on the outer skin
Modifies the size, shape, location, and depth as per your preference
Results:
A safe, effective and easy technique of Dimple Creation Surgery Treatment always results in getting the outcome you desire. It will give rise to the new natural looking dimples without leaving any mark on your cheek or chin. The surgery gives a permanent tethering effect once the scar is designed in the dermis underneath the skin. The important point is that it delivers immediate results right after the procedure.
Candidate of Dimple Creation?
Under local anesthesia, both males and females can go through the Creations of Dimples. This procedure can be carried out on any type or size of the cheeks and chin. Candidates with chubby cheeks are usually preferred. You are a good candidate if:
You possess asymmetrical dimples
You don't possess a bleeding disorder
You have no history of medical problems
You want to achieve a more memorable smile
You want to get an attractive look of your face
You believe that dimples are the sign of good luck and prosperity
Aim of Treatment:
Celebrities like Mario Lopez have million dollars smile. This is only because of the presence of dimples. Therefore, many of the people are following them and want to get the facial beauty as they have. This can only be possible through Dimple Creation Surgery that aims to create a small opening in the buccinator muscle of the cheek. This advancement can give your face a natural charm and a sign of good luck. Come to us and get a dimple of your own.
Technique We Use:
Before starting the Dimple Creation procedure Dubai, local anesthesia is administered that makes you feel no discomfort or pain. It takes about 20-30 minutes in creating the dimples. Following steps are involved in Dimple Creation in Dubai, Abu Dhabi & Sharjah:
Initially, a desired location of the dimples is marked on the outside of skin which is followed by a creation of tiny incision.
In case of cheeks, the incision is made on each side while in case of a chin, a single incision is designed.
A very small amount of muscle (3-4mm) is then removed from the marked location.
Once the muscles are removed, dissolvable sutures are inserted to give rise to the new dimples.
The surgeon then precisely adjusts the amount of muscle removed and the depth of sutures.
Resulting scarring (between the inner skin and muscle) will form a permanent dimple even after the absorption of sutures.
Recovery:
Minor complications such as swelling and bruising can be observed right after the completion of Cosmetic surgery. You will be prescribed some medications of a few days just to come up with immediate and better recovery. In the initial days, you will observe the dimples even without smiling but with the recovery and healing, dimples will flatten out and only appear when you smile or move your face. You are also advised to take proper care of your oral cavity as it is a source of bacteria and it can immensely affect your healing process.
How much does Dimple Creation Cost?
The average cost of Dimple Creation Surgery aka Dimpleplasty ranges from AED 3000 to AED 10,000. Insurance companies don't cover this cost; you can expect variation in this range as per the number of dimples you desire. In every case, it should be looked at by a professional to conclude precise costs. Single Dimple Cost: AED 3000, Double Dimple Cost: AED 6000, Venus Dimple Cost: 5000. 
Schedule a Free Consultation:
Our doctors and surgeons are the leading practitioners in the field of medicine throughout the world. People from different countries are approaching us as we offer cosmetic treatments at a very reasonable cost. If you want to go with this elective form of Dimple Plasty in Dubai, Abu Dhabi & Sharjah and seeking the expertise of a cosmetic surgeon then fill in the consultation form given below. Our consultant will contact you soon to make an appointment with you in which your detailed medical history will be obtained. Visit our clinic and learn more.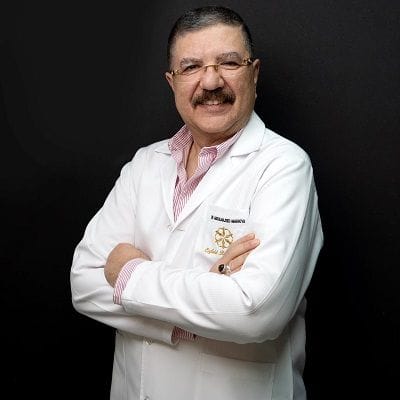 Dr Abdul Majeed Makkiya
1999 -2021 - Highly qualified cosmetic surgeon with 20+ years of experience. Passionate about helping others.
View Profile
Dr. Dina Elyamani
Get yourself enhanced according to your expectation from the leading aesthetic facility of Enfield Royal Clinic...
View Profile
Dr. Sannia Awais
A dedicated esthetician who is committed to the highest standards of excellence - always striving to achieve the very...
View Profile