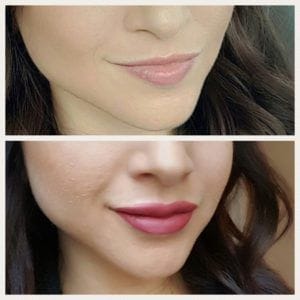 Lip augmentation in Dubai & Abu Dhabi is most widely used cosmetic treatment performed to enlarge and reshape the thin flatter lips. Some people have inborn slender lips while some people undergo same texture due to an accident or injury. Instead of this, most of the people lose contours as they age. This treatment is helping millions of people who who want to bring about alluring proportion of lips with the other facial features. Dermal fillers and lip implants are playing immense role in this regard. Hyaluranic acid found in the fillers tend to add volume and correct fullness. Fuller and more youthful appearance is being achieved by undergoing this cosmetic treatment.
Results and Benefits:
Results:
Once Lip Augmentation in Dubai, Abu Dhabi & Sharjah is done patients come up with very natural looking results. The sufferers notice aesthetic improvements in shape and structure through lip augmentation. By delivering outstanding outcomes the treatment is winning heart of millions of people. Results last for about six months to year depending on which procedure you are choosing.
Benefits:
Simple and safest procedure
Fast recovery with less downtime
Enhances facial look by adding volume to lips
Builds up the lost self-confidence and self-esteem
Creates symmetry between lips and other features
Who Is Candidate?
Selecting candidate for the treatment is an important aspect during the consultation.Both males and females can be selected for candidacy of lip augmentation. You are a good candidate for achieving fullness if:
You are medically fit and healthy
You are unhappy with thin lip structure
You are not suffering from skin allergy
You have positive outlook for the treatment
You want to have more sensuous appearance
Aim of Treatment:
Lip Augmentation in Dubai, Abu Dhabi & Sharjah majorly targets people who are unhappy with their thin and undefined lip appearance. This cosmetic treatment aims to provide desired texture to the flatter lips by adding volume and increasing elasticity of skin. With the aim of improving shape lip enlargement treatment also plays significant role in correcting and smoothing fine lines that come into sight over time.
Technique We Use:
Depending on desired cosmetic goals different techniques are available for enlarging the size and shape of lips. At our practice, we offer:
Most common non-surgical method for performing Lip Enlargement in Dubai, Abu Dhabi & Sharjah procedure is the use of cosmetic injectables such as Juvederm and Restylane. These fillers offer temporary enhancement at a very affordable cost. Results last for 4-12 months and in turn enhances one's self-image.
Fat Grafting:
The procedure of fat grafting involves use of liposuction technique. It can only be performed by a qualified cosmetic surgeon with specialized training in fat transfer procedures. Fat from another part of the body is extracted and then purified to use it in the form of filler. This encompasses zero risk of allergic reactions.
It achieves semi-permanent lip enhancement and help people who look for lasting solution. Our patients experience noticeable increase in volume after going with silicone implants. The whole procedure takes only about thirty minutes.
Recovery:
Swelling, bruising and redness might appear which will settle down on its own with in 3-4 days. You will be able to carryout your daily homework on the very same day of treatment.
Consultation:
If you are looking Lip Augmentation in Dubai, Abu Dhabi & Sharjah then choose out cosmetic surgeon. He has an extensive knowledge of facial anatomy and surgical and non-surgical skills. We can ensure you the safe and effective method and very natural-looking outcome. Fill in our consultation form. We will approach you by making a call.