Treat your Pointless fat Securely with Lasers!
It's no surprise to hear men spending 30-40 minutes lying in dermatologist's offices instead of spending hours in gyms to lose weight. Body contouring procedures aren't only proposed for women.
We provide Laser Liposuction for Men in Dubai & Abu Dhabi at Enfield Royal clinic to achieve curvy contours and a model look. This modern laser technology aims to discard the unwanted fat from problematic, bulging parts, leaving the body just as sharp as desired. We're not saying to skip the gym, but if lasers allow you to live your life with massive body goals without having to do even one more stab, it's worth catchable.
Targeted Areas:
Our smart laser Lipo is specifically meant for those men who are normal weight or mildly overweight, not severely obese. Below are the areas treated with laser liposuction in Dubai.
Hips
Tummy
Abdomen
Upper arm
Double chin
Calves
How Does Laser Liposuction Work For Unwanted Fat In Men?
In laser liposuction, high-powered lasers break up the rigid fat cells beneath the skin and transform them into liquid material naturally absorbed and drained from the body through a syringe, suction, or simply urine system. This procedure is considered minimally invasive ensures dramatic results quickly.
Two of the most common areas of anxiety in men are their love handles and stomach. Yet, with male liposuction, the fat of both areas easily gets shirked. Our doctors perform the procedure in a way to diminish the fat deposits as quickly as possible.
Benefits Of Liposuction In Men:
Hour-glass figure
Increased self-confidence
Massive choice of clothing
Healthier lifestyle
Comfortable
Minimally invasive
Why Should Men Consider Laser Liposuction?
To reshape the body, bring in lost self-confidence, motivate yourself, and stand out against all the silly jokes because of the big belly, men are strongly encouraged to get this procedure.
Below are the inquiries that might prove you a good candidate for Laser Liposuction for Men in Dubai.
Overall good in health?
Struggling with specific problem areas?
Tolerating tummy fat?
Fed up with fool around?
Afraid of surgeries?
Want to do something with bulging body parts?
Considering serious transformation?
Men's Laser Liposuction Procedure:
The laser process to treat fatty areas is simple and quick. It only takes 30-60 minutes to complete but remember outcomes, complications, and treatment duration may vary.
Below is the step-by-step guide on Men's Laser Liposuction in Dubai.
At first, the treatment site is cleaned thoroughly, and local anesthesia is administered for a smooth experience
A small cannula attached with a laser fiber is then inserted in the skin carefully. The depth of the cannula depends upon the level of fat
Cannula moves and melts the fat with laser beams
Lastly, the fat usually extracted with the natural lymphatic system or perhaps a suction mechanism
How Much Is Laser Liposuction?
The starting rate of laser liposuction at our clinic is around AED 10,000. This cost might exceed up to AED 20,000 or perhaps more as per the targeted area. To quote the exact price in your case, meet our surgeons.
Further, you can also avail yourself of our financing options, installment plans, and occasional discounted offers by consulting our team.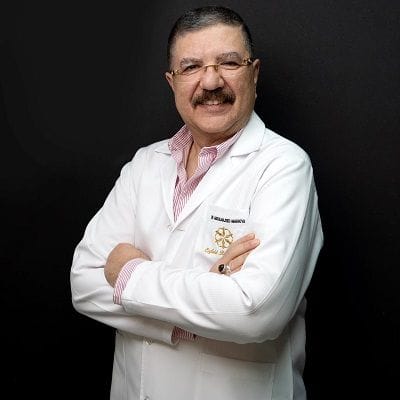 Dr Abdul Majeed Makkiya
1999 -2021 - Highly qualified cosmetic surgeon with 20+ years of experience. Passionate about helping others.
View Profile
Dr. Dina Elyamani
Get yourself enhanced according to your expectation from the leading aesthetic facility of Enfield Royal Clinic...
View Profile
Dr. Sannia Awais
A dedicated esthetician who is committed to the highest standards of excellence - always striving to achieve the very...
View Profile
Get The Men's Best Laser Liposuction In Dubai!
Liposuction results are reported as effective as with women. No negative impact being left due to excess fat. If, however, you are men feeling unsatisfied with your body shape, consider this excellent option to transform your body. For bookings and appointments of Laser Liposuction for Men in Dubai & Abu Dhabi, call us today at +971 43330708 or use the online form.