A hair transplant is one of the most challenging cosmetic surgery procedures. Even in skilled hands, complications can occur after a hair transplant. This is due to the complex nature of the procedure itself.
In such situations, a second procedure is needed and when is undertaken, the skills of the professional become even more important. Dr. Abdul Majeed Makkiya, a cosmetic surgeon at Dynamic Aesthetic Clinic, has developed an amazing referral practice for revision hair transplant surgery in Dubai, Abu Dhabi & Sharjah. In fact, many patients come from all over the UAE to enjoy his services
If you have had a hair transplant and are experiencing complications with the hair growth or the scalp, a consultation with Dr. Abdul Majeed may help find out if you are a candidate for this procedure.
Who is the Best Candidate?
It can be really disheartening when your hair transplant doesn't give you the desired results. After dealing with a long recovery period, and spending hundreds of dirhams, the results may have been better — more dramatic. Well, you are not alone. With our revision hair transplant surgery, you can get the look you wanted.
Preparation:
But before you decide to get revision hair transplant surgery in Dubai, follow these three steps:
Choose a new cosmetic surgeon carefully. Because revision surgeries are more complex than original procedures, you need to be extra careful while selecting the professional for your second hair transplant. He must have extensive experience and knowledge to adequately tackle unseen complications
Make sure your scalp is fully healed. Optimal results appear only after the scalp is fully healed. Generally speaking, a hair transplant takes nine to twelve months to give the desired results. Premature hair transplant revision surgery should be strictly avoided. I personally recommend not even starting the procedure until a year.
Schedule an initial consultation. A hair transplant can be relatively simple, or extremely simple. This all depends on the number of grafts used during the first procedure, the quality of the donor's hair, and the surgeon's skills. Consultation is the only way to know about all of the above.
Procedure:
In some hair transplants, the implanted grafts die out and the results don't look as natural as they were supposed to. To tackle such issues, a revised hair transplant in Dubai would be the best option. Let's take a look at how it's done:
The procedure is generally done under local anesthesia.
The surgeon begins revision surgery by eliminating some of the grafts that were implanted in the first operation.
The removed grafts are then replaced with healthy follicles present on the sides and back of the scalp. This process will generate the most reliable and most natural-looking results possible.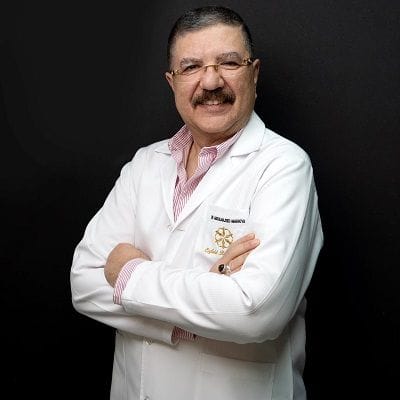 Dr Abdul Majeed Makkiya
1999 -2021 - Highly qualified cosmetic surgeon with 20+ years of experience. Passionate about helping others.
View Profile
Dr. Dina Elyamani
Get yourself enhanced according to your expectation from the leading aesthetic facility of Enfield Royal Clinic...
View Profile
Dr. Sannia Awais
A dedicated esthetician who is committed to the highest standards of excellence - always striving to achieve the very...
View Profile
Results:
Patients can expect to see the final results of the revision hair transplant in Dubai in six to nine months.
Cost!
Hair transplant revision takes anywhere from three to four hours and is carried out under local anesthesia. The results are also natural-looking and permanent. However, when it comes to cost, you may want to reconsider your decision. The second surgery usually costs 60-80% more than the first surgery.
In general, the hair transplant cost of revision surgery in Dubai ranges from AED 12,000 to AED 18,000 depending on the technique used, the surgeon, and the geographical location of the clinic.
If you aren't happy with your new hair, it's time to move a step forward. Schedule your revision hair transplant surgery in Dubai, Abu Dhabi & Sharjah now. Fill out the consultation form or give us a call to book an appointment.