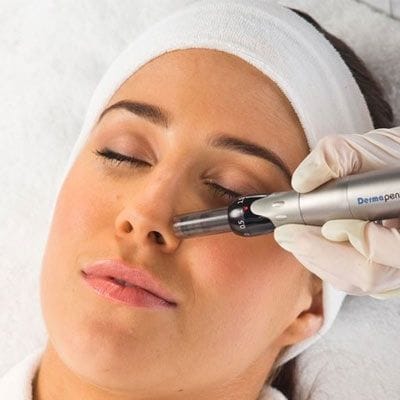 Dermapen is a handheld gadget with adjustable skin penetration depth. It's a non-surgical, minimally invasive method that produces very impressive results. In fact, it is by far considered the best micro-needling tool dermatologists use for skin resurfacing. It creates an unrivaled reaction by segmenting microneedle delivery and inflicting multiple injuries to the dermis and epidermis. Overall, it promotes the skin's natural ability to heal itself. The pen's tip is commonly outfitted with twelve needles and a variety of advanced patented technologies such as SureSpace, Saflok, and others. So, How Much Does Dermapen Treatment Cost In Dubai?
General Cost:
Dermapen Dubai price typically ranges between AED 499 and AED 899. Price is not set in stone because a variety of factors influences it. The number of sessions required, the dermatologist's fee, the client's personal goals, and skin condition can all contribute to the overall cost. We'll return to these factors later.
Insurance Coverage:
Because dermapen treatment in Dubai is considered an aesthetic procedure, it is rarely covered by health insurance. However, if your skin is damaged due to an accident or illness, a portion of it may be substituted. You should check with your insurance provider to see if you are eligible.
Payment Options:
At Dynamic, we accept cash, credit cards as well as checks. Since cosmetic treatments can pose a financial burden to households, we offer many fantastic payment options. So now, you can get your cosmetic treatments without placing a major strain on your finances.
Cost Factors:
As previously stated, many factors influence dermapen Dubai prices. The price, for example, can be calculated based on the number of sessions required. Understanding these factors in more detail, therefore, can assist you in determining the actual cost. So, continue reading.
Skin Conditions:
If you have more than one skin condition to be addressed, it may necessitate additional sessions, making the treatment more expensive.
Number of Sessions:
One course of micro-needling typically consists of six to seven sessions. However, if you want more sessions, you will undoubtedly spend more money.
Clinic Location:
Another important factor influencing the cost is the clinic's location. Clinics in major metropolitan areas are more expensive than those in smaller towns and cities. However, never choose a clinic solely based on its price. Consider the skills and quality of care provided by dermatologists as well.
Dermatologist's Fee:
Finally, the cost of Dermapen treatment is heavily influenced by the dermatologist you select. Dermatologists who are experienced and well-trained are generally more expensive than those who are just starting out. No matter what the cost, choose a professional practitioner for your micro-needling treatment.
Which Is Preferable: Dermaroller vs. Dermapen:
Dermapen operates in the same way as a Dermaroller, but it also uses oscillation pulses to move vertically across the treatment site; it can be moved up and down much faster than a roller. And so, Dermapen is much easier to hold, it is more flexible than a roller and produces more precise results than Derma roller treatment in Dubai.
Microneedling Treatment at Dynamic Clinic!
Dynamic is the #1 reconstructive and plastic surgery clinic in Dubai. Apart from our life-saving medical services, we excel in the world of aesthetics too and offer the best micro-needling treatment at our practice. The clinic has the best dermatologists on board who provide phenomenal care to patients at very affordable rates. So, if you're looking for a clinic where you can get your micro-needling treatment done safely, come to us.
Book a Consultation:
Want to learn more about the costs of dermapen treatment in Dubai? Please make your appointment with us as soon as possible. Call us at +971588230420 or complete our brief consultation form.