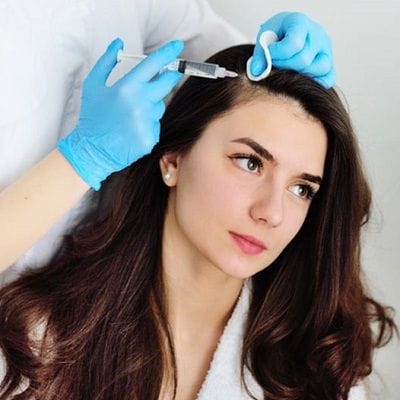 Platelet-rich plasma can significantly improve hair growth. But at what cost? 
On average, PRP hair restoration cost in Dubai is AED 800, though there are a myriad of possible expenses to be taken into account when booking a PRP treatment.
– Average cost: AED 800
– Price range: AED 700 to AED 900
What factors make up the total cost of PRP?
If you've realized that a PRP hair treatment is correct for you, it's time to think about the economic repercussions. Just remember, the information in this guide is generalized. Consultations with experts always provide the most definite estimates of the cost of any cosmetic procedure. The most important factors that affect PRP cost are:
Location
Generally speaking, cosmetic procedures cost more on the coasts than central regions because of the higher volume of treatments performed
Number of injections
The number of PRP injections will vary by individual but maybe three or four. Depending on the exact number of injections needed, the cost will fluctuate. 
Anesthesiologist's fee
As with the hair specialist, the experience and skills of the anesthesiologist affect PRP hair restoration cost in Dubai. As we mentioned above, prp may require local anesthesia, so you may need a specialized anesthesiologist to administer it. 
Additional expenses
Stay with us; we've got one more for you. During your PRP, you will almost certainly incur additional personal charges. In addition to what the institution gives, we're talking about consultation fees from medical providers, travel charges, pre-surgical care, missed work, and recuperation goods you purchase. Obviously, these charges will vary greatly depending on the individual.
Does insurance cover the cost of PRP?
Plastic surgeries are occasionally covered by medical insurance, but cosmetic procedures aren't. However, hybrid therapy that provides both aesthetic and functional benefits may be partially or entirely covered. All of this being said, PRP is purely an aesthetic surgery. Thus it is not covered by health insurance.
How long does it take to see the results of PRP?
Platelets are blood cells with the ability to generate growth factors. When injected into the scalp, these platelets accelerate growth in the hair, which is getting miniaturized. It is important to note that PRP treatment is usually done over several sessions; one session does not deliver the desired outcomes. In most cases, 4-6 sessions are required to achieve more comprehensive results. In general, about 70 to 80 percent of our patients who underwent PRP reported a notable improvement in hair growth in three to four months.
Quick shoutout to hair transplant 
A brilliant PRP alternative that involves transferring follicles from one part of the scalp to another. However, to be a hair transplant candidate, one needs to have a sufficient amount of healthy follicles; Only in that situation, he will have successful hair growth. Anyhow, whether you're seeking the best hair transplant clinic in Dubai or just want to find out how much hair transplant cost in Dubai, Dynamic Clinic is the place to go. 
The Outlook
People considering PRP treatment will find it really helpful to familiarize themselves with cost determinants.

The best method to receive a more accurate estimate on PRP cost is to meet with a hair specialist.
Book an appointment
If you are ready to take the leap and treat your hair loss for some notable improvements in self-confidence, PRP may be the right choice. Dynamic clinic is one of the UAE's finest PRP providers. Make an appointment here so you may enjoy the most incredible cosmetic experience possible. Call +971588230420 or fill out the contact form to schedule an appointment.