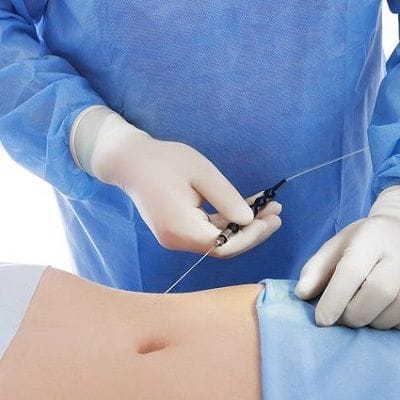 If you are not losing stubborn fat pockets even after restricting calories and exercising regularly, then it's best to undergo in-office procedures like GPS laser liposuction, ultraslim, cool sculpting, etc. It surely can make you feel amazing about how you look.
What do you know about GPS laser liposuction in Dubai?
In the past, traditional liposuction was considered a front-line treatment against stubborn fat. Now, a safer, more effective, and incredible solution has been found. It is known as GPS laser liposuction. This type of liposuction offers astonishing results, great precision, the fastest recovery times, and the least downtimes. Furthermore, Ii can provide you with a slimmer shape and enhanced self-esteem without complications.
How it Works:
This body sculpting treatment is pretty unique because it uses built-in GPS technology to target fat. Besides, the upshots are instant and very natural-looking which makes it worth it.
During treatment, the doctor inserts a small tube in the problem area through a tiny incision. And then through that tube, the laser beam is directed at the stubborn fat pockets. In the meantime, he keeps an eye on the behavior of the laser with the help of built-in GPS technology. Laser heat breaks fat cells apart, making fat removal easier and smooth. At last, fat cells are removed safely from the skin via a suction pipe attached to the cannula. Note that, besides reducing fat, it will also improve skin texture since the laser is also capable of stimulating collagen production.
Benefits:
Laser-assisted liposuction is a non-invasive evolution of traditional fat reduction surgeries. It offers incredible precision and has short downtime. Other benefits include:
Tightens the loose skin.
Virtually painless.
Reduces fat and cellulite simultaneously.
It is Worth it?
This liposuction technique enhances your existing physique by reducing fat pockets via laser and GPS. So, I assure you that after the procedure, you will start feeling better about yourself.
But please note that if you want to maintain results for a long time, you need to keep your weight the same.
When is the Perfect Time for this Treatment?
It depends. As a matter of fact, it is best done only after you have tired of trying to lose fat through diet and increased activity.
How Much Time does it Take to Recover from This Surgery?
Since it is minimally invasive, it does not involve long-term discomfort, pain, and other complications that usually come with major surgeries.
In general, doctors recommend a couple of days of downtime before returning to normal life. However, in this time period, you won't be able to perform strenuous activities and household chores.
And when it comes to side effects, it's normal to experience mild swelling, pain, and bruising after your surgery. These side effects are manageable, you can use cold and ice packs to minimize them.
How Much Does it Cost?
It is a highly individualized procedure so the prices can vary from patient to patient. Five main factors that can affect the cost include the location of the clinic, area to be treated, amount of extra fat, individual needs, and extent of the procedure.
In general, the cost of GPS laser liposuction in Dubai starts from AED 15,000 per area.
Book an Appointment!
If you are seriously interested to know more about GPS laser liposuction, Dynamic Aesthetic Clinic would love to hear from you. Dr. Abdul Majeed is one of the most sought-after plastic surgeons in Dubai. He'll be happy to answer your questions and the doubts you might have about the procedure in order to help you fulfill your beauty goals and achieve the figure you've always wanted.