Hair growth on the skin is considered a normal part of life but on a girl's body, the hair looks very bad especially when fine hair shafts are present on their arms, legs, and forehead. So, if you are a woman and have uninvited hair, you can consider our effective laser hair removal procedures.
Laser Treatment is a great option to eliminate hair from legs, arms, face, or bikini lines non-invasively. Generally, our doctors use a Q-switched laser to target uninvited follicles. Besides removing hair, this laser also stimulates collagen growth and elastin production so, with our Q-switched Laser Hair Removal Dubai & Abu Dhabi, you can obtain flawless, smooth, and hairless skin. The results are very impressive, as the treatment treats everything from skin spots to stubborn body hair.
While it provides permanent hair reduction to people who have unwanted hair on their body you must know that it is not a one-time procedure, and requires almost 5-6 sessions to deliver the desired outcome. Talk to an expert to find out the exact number of Q-switched laser hair removal Dubai sessions you need.
Important things to do Before Getting Laser Hair Removal:
Prior to the treatment, you need to shave the entire problem area. In this way, hair roots are made more visible and easy to target. In addition, do not drink alcohol or smoke cigarettes as they can affect the final outcome. Come to the clinic make-up-free, even without moisturizers and lotions. The major purpose of this preparation is to ensure successful results of Laser Hair Removal.
Benefits:
The most important benefit of Q-switched laser hair removal is that it delivers desired results to patients without any downtime. Only one side-effect that patients experience after laser hair removal is mild bruising on the treatment site for about 10 to 15 minutes so you will be allowed to continue your routine activities right after the treatment.
Let's move towards another important benefit of this treatment: Skin rejuvenation. The laser energy heats up the dermal layer which triggers collagen and elastin growth. It results in firmer, smoother, and more elastic skin. While the treatment provides long-term hair reduction to clients you must know that you can only get it after receiving multiple sessions.
Unlike conventional hair removal methods, laser hair removal is quick. It takes just a fraction of a second to target 10-12 hairs at the same time.
It is an easy way to get rid of your hairy body by eliminating hair shafts that are present in the bikini line, upper lips, arms, legs, back, and all other smaller and larger parts of the body.
The therapy is gentle and non-invasive, so no general anesthesia is required during it. The doctor might apply anesthetic cream on the problem site to ensure 100% safety of the patient.
Is it Worth Getting Q-switched Laser Hair Removal Dubai?
Usually, we use waxing, shaving, threading, or trimming to eliminate unwelcoming hair from the body, but all these methods share one problem, the results are temporary. If you are searching for a permanent hair reduction method, Q-switched laser hair removal can help. Laser energy is delivered to the skin to penetrate deeper and target the hair roots there. However, it is noteworthy that the treatment delivers excellent results to people with fair skin and dark hair. Despite that, if you have these two characteristics but at the same time are pregnant or planning to get pregnant in the next 3-4 months then you should not get this treatment because the results will be worse in that situation.
Q-Switched Laser Removal Cost in Dubai:
At Dynamic Clinic, Q-switched laser hair removal in Dubai is being offered at competitive pricing. The cost generally ranges anywhere from AED 600 to AED 3,000 depending upon the size of the problem site, the texture of the hair, the geographical location of the clinic, and the expertise of the practitioner. To know the exact cost of Laser hair removal in your case, get in touch with us.
Sessions of Q-switched Laser Hair Removal are Required?
Results can be temporary or permanent depending upon the type of skin you have and the nature of unwelcoming hair present on your body. To achieve permanent hair reduction, you need to have at least 5 sessions, and please don't miss the due date. After each session, you will see about a 20-25 percent reduction in your hair.
Our Specialists: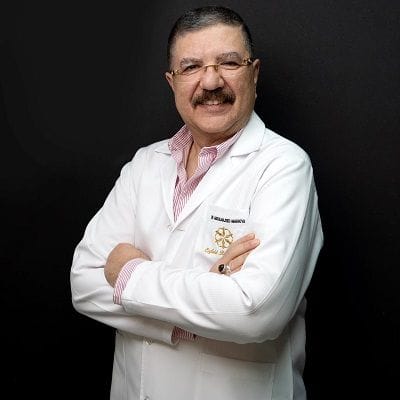 Dr Abdul Majeed Makkiya
1999 -2021 - Highly qualified cosmetic surgeon with 20+ years of experience. Passionate about helping others.
View Profile
Dr. Dina Elyamani
Get yourself enhanced according to your expectation from the leading aesthetic facility of Enfield Royal Clinic...
View Profile
Dr. Sannia Awais
A dedicated esthetician who is committed to the highest standards of excellence - always striving to achieve the very...
View Profile
Why Choose Us?
If you are planning to get Q-switched Laser Hair Removal in Dubai & Abu Dhabi, you should visit Dynamic Clinic. We provide state-of-art services to our customers and many experienced, trained plastic surgeons are working with us so I can assure you that you won't face botched results here. For more information, book a free appointment with experts of Dynamic Clinic by filling out the online consultation form.