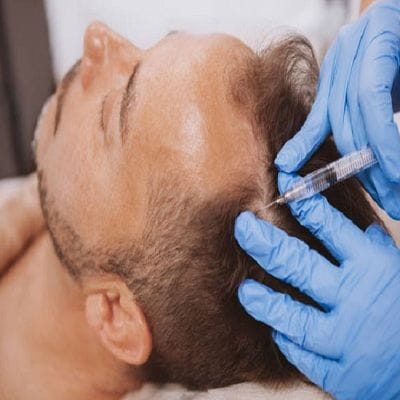 Would you be willing to inject your own blood into the scalp to boost hair growth? Here's everything you need to know along with pricing details.
Overexposure to environmental factors of Dubai, especially high temperatures causes hair loss. Every next person in this city tolerates this problem. So yet, a natural treatment named PRP is surprisingly there to benefit. It is the instant way out to stop hair loss, hair thinning and to deliver instant thickness to the scalp. Since it comprises your own blood so there is no side effect, no severe pains and therefore no long recovery periods.  This treatment is not priced as high as one assumes. By reading this blog post you can find PRP Hair Treatment Sharjah Cost. Continue ahead.
Typical Cost:
PRP Treatment begins around AED 650. Further, it can exceed up to AED 2,000 depending upon the proficiency of your provider, number of sessions, and extent of hair loss. Speak directly to our dermatologist to get a precise cost estimate in your case.
Is It Worth It?
Spending a few dirhams on this natural process can never be regretting. It is a truly worthwhile decision if you are overall fit. At times, blood infection, clotting, or any other health problem can lead to complications. You can consult our doctors to know if you are medically fit.Note that, PRP for hair in Dubai can leave you with a healthy scalp even in just one session. However, the lastingness of results highly depends upon the continuity with the procedure. Approximately, 3-6 sessions are generally recommended, which must be spaced apart with a gap of four weeks or more.
Special Discounts:
So far, PRP hair treatment Sharjah cost isn't reported much high. Still Dynamic Clinic Dubai provides various discount offers on availing couple of sessions. Such offers are usually announced occasionally. You can keep checking our Instagram, Facebook page for complete understanding.
Interesting Fact:
PRP is trending due to its natural healing power. It endorses concentrated growth factors that the scalp badly requires. Men are highly advised to have this procedure twice o thrice every six months. Their one-time decision can save them from late baldness problems.
*The best thing about this treatment is that it suits everyone* 
The Takeaway!
If hair loss is your concern, PRP Injections can be extremely useful. They promote new hair growth, thicken the existing ones, and therefore reduces the number of strands you lose every day. You only need to spare 30 minutes from your busy schedule to get this done.Remember, whether you get PRP for your face or your skin, one session won't be enough. The more you do, the better results will be. Repeated treatments are required for optimal results. One session might charge you AED 700 or above depending upon the level of hair loss.To find more details about PRP Hair Treatment Sharjah Cost, contact us now. Use the online form or call at +971 588230420 to book your appointment.