What is a Robotic Hair Transplant?
The advancement and evolvement of robotic systems now in the area of medicine can be useful for hair transplantation also. Everything is just the same as conventional Hair Transplant methods. The only difference is that a robot-based device is used to harvest the hair into the scalp. Our highly esteemed team of specialists now seek assistance from Robotic Hair Transplant in Dubai & Abu Dhabi systems which not only saves time but also the energy of the specialist or surgeon. The results and the outcomes you will notice are very closely related to the conventional treatment methods or you can say far better. 
Right Candidates:
According to hair specialists, you need a hair transplant when your scalp is not sufficiently having the follicles to stimulate the growth of new hair. 

Moreover, people who lack the proper nutrition and want heavier, healthy, thicker-looking hair should go for robotic hair transplant methods. 

Cancer survivors lose almost all of their hair and end up being bald or have alopecia severely. They correctly fit into the category of those who need hair transplants. 

It is important that you are healthy and free of any diseases. A

robotic hair transplant in Dubai

is normally done on black straight hair so in case you have colored hair or you have recently dyed them then you will be advised to change the color to a black shade the reason why the surgeons demand black hair is that they are easily visible, unlike pale and curly hair. 
Results of Robotic Hair Transplant:
The result of the treatment is quite surprising and will leave you amazed. Your hair will start to regrow from the very next day of the treatment. You will notice that as time passes your hair thickness starts to improve and there is enough volume.
 Not just this but the hair will continue to grow for a very long period of time or you can say throughout life. In case you have genetically less hair then you may need to undergo a re-session.
The goal of the Robotic Hair Transplant Treatment:
Since the conventional hair transplant treatment method requires the specialist to extract multiple follicular units one by one from the donor site it requires a great deal of patience and is quite time-consuming for the surgeon also see the PRP Hair Treatment UAE. 
The involvement of Robotic Hair Transplants in Dubai & Abu Dhabi has made this technique easier. It removes a single hair graft from the donor site and implants it at the same time. You can say that the main aim of the treatment is to save time and energy.
Was the procedure of Robotic Hair Transplant done:
 Here is a closer look at how we perform robot-aided hair transplants in our clinic: 
 Make the patient seat in a comfortable place.

 administer local anesthesia so that the discomfort and pain are not felt.

 A small device is placed at the back of the scalp.

 A robotic hand then repositions itself into the donor area from where the units will extract.

A suction-base device tool use for follicular extraction from the various parts of the skin.

The extract follicle place into the scalp by the robotic hand.

A similar procedure is repeated until the complete follicles are extracted and implanted into the recipient site.
Prime Benefits of Robotic Transplant:
 The technique is minimally invasive and does not require any lengthy surgical procedure.

 Saves a lot of the time. It takes about five hours in the treatment whereas the conventional hair transplant method lasts for about 8 to 9 hours.

 The latest technology makes things be carried out more precisely and with accuracy.

Fewer chances of errors since everything is done using an electronic device that is well-preprogrammed.
The Recovery:
 Many people think about how soon can they resume back to work and daily life skills after the treatment so here it is. You do not need to skip any work or take off because from the very next day of the treatment you can carry out the regular jobs. It depends on how comfortable you are. 
Some people would like to stay at home until their new hair starts to grow, whereas people who are unable to skip their jobs can start work as soon as they want. If you want the recovery to be faster and quicker then follow the post-operative instructions given by your specialist they generally would include: 
 Avoid touching or scratching your hair and scalp.

 Do not cover or tie any scarf around your scalp.

 Refrain from using shampoo and chemical cleansers.
Final Verdict:
 If you are also eager to get healthier and luscious-looking hair then book your free consultation for Robotic Hair Transplant in Dubai, Abu Dhabi & Sharjah right now. Our team of Hair Specialists will guide you about the treatment and will schedule your appointment for the treatment soon.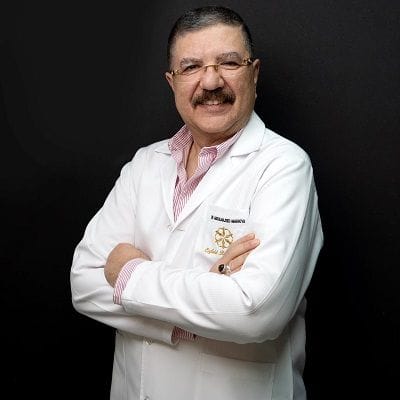 Dr Abdul Majeed Makkiya
1999 -2021 - Highly qualified cosmetic surgeon with 20+ years of experience. Passionate about helping others.
View Profile
Dr. Dina Elyamani
Get yourself enhanced according to your expectation from the leading aesthetic facility of Enfield Royal Clinic...
View Profile
Dr. Sannia Awais
A dedicated esthetician who is committed to the highest standards of excellence - always striving to achieve the very...
View Profile