Every day we lose up to 100 strands in a day which is quite normal for people who have good hair growth but conversely when we talk about the ones who face a lack of hair progress, they can come up with Baldness. There are a lot of reasons behind excessive hair loss including hormonal changes, aging, poor nutrition, or any medical condition however most of the time, the exact reason behind baldness is unknown.
A lot of people demand efficient recovery and better hair growth after surgical Hair Transplant procedures. For this concern, we are proud to announce the Best Hair Transplants with Laser in Dubai & Abu Dhabi. It is the biggest advancement in technology to treat the baldness of the head with its innovative mechanism.
Why UAE?
The United Arab Emirates has now become one of the biggest platforms for performing Hair Transplants whether it's surgical or Laser. The world's top best surgeons are offering their quality services in Dubai and a lot of people come here to get their Hair Transplants.
Are you still wondering about the exact reason behind getting Laser Hair Transplants in Dubai? The plus point is the cost! People get treatment in Dubai from expert surgeons at less rates. This is because the rate of the Dirham is quite less than USD or Pounds. The whole treatment cost becomes automatically less. Moreover, Dynamic Aesthetic Clinic is the most prominent choice for the majority of the board patients as we're offering several travel packages and installment facilities, so without facing any budget issues, you will get your aesthetic demands fulfilled.
How does Laser Hair Transplant work for Baldness?
Laser Hair Transplantation is a kind of modification in traditional Hair Transplants. After undergoing the surgical Hair Transplant, a Laser device is moved to the transplanted area of the scalp, which emits a specific range of photos that encourages the weak scalp tissues for healthier and improved Hair growth.
The primary purpose of this laser procedure is the fastest recovery and enhanced healing of the implanted hair follicles. It's performed with the help of a device that produces a soft light which is then absorbed into the cells of the scalp. The specified technology used in lasers vaporizes the scalp tissues and strengthens the natural growth of hair.
The biggest plus point of getting a Hair Transplant with a Laser in Dubai & Abu Dhabi is that the pulses transferred from laser machines are extremely short and without even damaging the surrounding tissues they perform the necessary alterations in the scalp.
When do Laser Hair Transplants fail?
No doubt that Laser Hair Transplants provide a healthy scalp with shiny hair on it. But in some cases, these Hair Transplants won't be a good choice for satisfying your needs.
Sometimes, Laser Hair Transplants will get failed when the hair roots are dead. For this reason, patients are advised to get this Laser therapy at the earliest before it gets complex. The experts at Dynamic Aesthetic Clinic will guide you through the details of the process and the best time to have it done.
Laser Hair Transplant Specialists: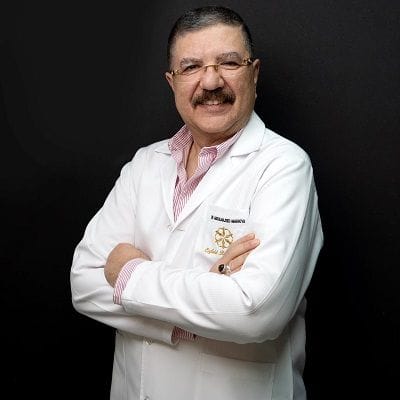 Dr Abdul Majeed Makkiya
1999 -2021 - Highly qualified cosmetic surgeon with 20+ years of experience. Passionate about helping others.
View Profile
Dr. Dina Elyamani
Get yourself enhanced according to your expectation from the leading aesthetic facility of Enfield Royal Clinic...
View Profile
Dr. Sannia Awais
A dedicated esthetician who is committed to the highest standards of excellence - always striving to achieve the very...
View Profile
Expected Amendments in the Future!
As the technology tends to improve, hopefully, a laser will treat the dead roots with minimal thermal injury. This enhancement in Laser Hair Transplant will make it a more valuable Hair Transplant in Dubai. Moreover, until a Laser scanner is designed, this advancement will not be developed entirely. A scanner will determine the exact number of required hair grafts in consideration of the thickness, density, and direction of the hair frame. Current research has shown that Hair Transplants with Lasers are found to be much more effective than alone Surgical Hair Transplants. But nowadays, FUE Hair Transplant is the only solution for departed roots until and unless the Hair Transplant with Laser in Dubai & Abu Dhabi gets upgraded.
Most expectedly, coming years can arise with the biggest revolution in Laser Hair Transplant as technological enhancement appears in the blink of an eye!
If you're still having any doubts or queries regarding the Hair Transplants with Laser you can feel free to visit our experts or send a query in chat!