Make the Change You Deserve Today!
Being trapped daily in a highly personal hell of concealing hairless scalps via hairstyles and caps is the thing you go through, not the others. Beyond the temporary fixes, I prefer the everlasting solution, "Hair Transplant."  With over 10,000+ successful hair transplant surgeries, we are honored to provide the Hair Transplant in Dubai & Abu Dhabi. Our safe FUE, FUT procedures performed by the highly skilled surgical team can transform you so dramatically that hardly recognize anyone you tolerate baldness.
Hair Transplant in Dubai:
Hair Transplant in Dubai is the gold-standard hair restoration. It encourages natural hair growth by relocating the hair grafts on the area that is receding. Upon acquiring modern FUE—no stitches are required. And final results are completely worthy and last for your entire life. Transplantation gives bald people the opportunity to live the rest of their lives with confidence.
Following are the conditions that can be easily treated with the transplant:
Excess Hair Thinning.
Front Hairline reconstruction.
Crown area restoration.
What's The Procedure?
Hair Transplant Surgery is quite tricky for surgeons, not for patients. Patients relax with local anesthesia so they can easily communicate with the doctors during surgery. Our surgeons do everything to restore hair density by ensuring natural fullness at a directed angle and depth.
The three steps involved in the Best Hair Transplant in Dubai are:
Extraction: Surgeons extract a required number of hair follicles from the donor area via FUE or FUT.
Preparation: The follicles prepare the desired shape and size and a small site into the scalp to place such grafts.
Transplantation: In the end, prepared follicles are carefully allotted into the scalp at a specific angle based on the scalp symmetry of the patient.
Types of Hair Transplants We Offer:
Numerous Hair Transplants are part of our services; here's a glimpse of the most popular ones:
Scalp Hair Transplant.
Eyebrow Transplant.
Eyelash Transplant.
Beard Transplant.
Moustache Hair Transplant.
Hair Transplant Methods:
FUE Hair Transplant.
DHI Hair Transplant.
Robotic Hair Transplant.
FUT Hair Transplant.
How Can You Prevent Alopecia?
Experts always suggest avoiding tight hairstyles to prevent the roots of the hair. Plus, it's advisable to keep having loose hairstyles every time you notice even slight hair thinning.
However, dermatologist visits can always be reliable. Below are some tips that are advised mainly by dermatologists or Trichologists to stop hair loss.
Minoxidil (FDA-approved medication).
Stem cell therapy.
PRP injections.
Low-Level Lasers.
Mesotherapy.
Hair Transplant Side Effects:
Bleeding.
Infection.
Scalp pain (swelling).
Itching or redness.
All of these complications aren't reported as intricate. No long-term side effects have been seen till now. Mild bleeding on the first day of surgery is usual but when it becomes excessive, seek immediate guidance from a doctor.
Understanding the Costs of Hair Transplants in Dubai:
The Price Range:
When it comes to the Cost of Hair Transplants in Dubai, it's essential to recognize that pricing can vary significantly depending on several factors. Typically, the price range for a hair transplant in Dubai falls between AED 7,000 to AED 15,000, but it's crucial to remember that this is a rough estimate.
Factors Affecting the Cost:
Numerous factors influence the cost of a hair transplant, including:
Number of Grafts: The more grafts you require, the higher the cost. Grafts are individual hair follicles that are relocated.
Clinic Reputation: Well-established clinics with experienced surgeons often charge more for their expertise.
Technique: Different techniques, such as FUE and FUT, have varying costs.
Geographical Location: The location of the clinic in Dubai can affect pricing.
Additional Services: Some clinics offer post-transplant services, which can increase the overall cost.
Patient-Specific Factors: Your unique hair loss situation and goals can also influence the final cost.
First Consultation:
A satisfied initial consultation is significant. We offer free scalp analysis on the first meeting. Based upon this analysis, our doctors will advise you on various hair loss methods, hair transplant techniques, expected results, pros and cons associated.
To ensure your surgery isn't a waste of time or money, consider the following instructions:
Visit a well-reputed clinic.
Ensure the qualification of the surgeon.
Ask for the results you expect.
Clear your fears.
Understand the surgery process in detail.
Restrict yourself to some instructions (Pre-and Post-care).
Don't rush while making a final decision.
Our Best Hair Transplant Surgeon in Dubai: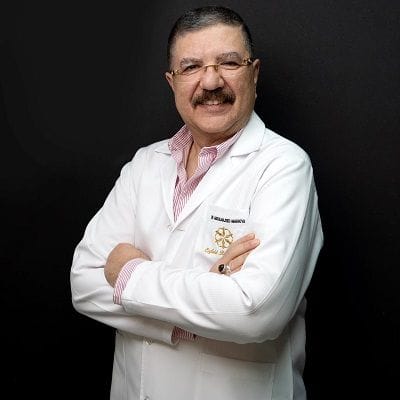 Dr Abdul Majeed Makkiya
1999 -2021 - Highly qualified cosmetic surgeon with 20+ years of experience. Passionate about helping others.
View Profile
Dr. Dina Elyamani
Get yourself enhanced according to your expectation from the leading aesthetic facility of Enfield Royal Clinic...
View Profile
Dr. Sannia Awais
A dedicated esthetician who is committed to the highest standards of excellence - always striving to achieve the very...
View Profile
Get the Best Hair Transplant in Dubai!
No one easily imagines undergoing a transplant. It's the idea that scares most people, but when being a victim of excessive hair thinning, this surgery remains the only reliable help. It's a one-time solution and not as complicated as the myths revolve around. No severe side effects of transplant have been reported till now except for the non-stop hair growth widely recognized worldwide.
According to American Hair Loss Association reports, nearly 45% of hair loss sufferers are women but don't do anything due to a lack of knowledge. Being the best hair transplant providers across Dubai, UAE, we surely transform your baldness into a fuller head after informing you of all the necessary details. For consultations, bookings, and pricing details concerning Best Hair Transplant in Dubai & Abu Dhabi, use the online form or call directly at +971 542992160.