Worry Less, Be Happy and Have the Best Control over Your Life!
When it comes to hormones, the first thing that comes to our mind is sex and women's menstrual cycle, which is absolutely correct, but hormones have to do more than that. They play an integral part in our daily life, and each detail of our life is controlled by their balance apart from the sexual desires, pregnancy and reproductive organs' health. Once they get imbalanced, everything gets disturbed, from sex desire to sleep and even how you feel and think. Dynamic Clinic offers best hormone therapy services in Dubai.
Let's slip into the details of how we can benefit from their services!
When Do I Need To Get Myself Checked?
Women need to check their hormonal levels if they feel fatigued and have mood fluctuations. Usually, they are not checked regularly or weekly. But you can get them checked with a hormone specialist on the third day of the period. If you have been noticing the following symptoms in your daily life, you might have been going through a hormonal imbalance:
Bloating.

Irritability.

Fatigue.

Blood sugar problems.

Mood swings.

Infertility.

Irregular periods.

Abnormal Body fat Distribution.

Diminished sex drive.

Night Sweat.

Tummy trouble like diarrhoea or constipation.
Candidacy Criteria to Visit a Hormones Specialist?
Generally, a woman from her first period to her menopause age is advised to check herself by a hormone specialist. Between that age, all the reproductive system issues and hormonal imbalance problems are treated by hormone specialists, and every woman undergoing these symptoms fits the candidacy criteria.
Services Provided By Hormones Specialist:
A hormone Specialist in Dubai or an endocrinologist offers the incredible services in treating the following conditions:
Diabetes:
An endocrinologist or hormone specialist can prevent severe health issues like heart diseases, renal failure, heart stroke and others by managing the blood sugar level.
Thyroid Disorder:
The fluctuation in the discharge or production of too little or too many hormones can cause chronic fatigue, kidney stones, bone fracture, joint pain, osteoporosis and much more. A hormone specialist treats all these issues effectively.
Excessive Hair Growth:
Exaggerated hair growth on the face, back and chest is caused by hormonal imbalance, and a suitable effective medication by hormone specialists can treat them well.
Menopause:
This most common women issue can disturb every woman's life badly. Hot flashes, sleep disturbance, night sweats, irritation and forgetfulness can also be managed by the Menopause treatment in Dubai with the services of a hormone specialist.
Infertility:
You can easily start your family by conceiving a baby and correcting the hormonal imbalance problems through hormone specialist treatment. 
Dr. Rashad Hadad, The Aesthetic Gynecology and Obstetrics Expert!
After taking a decision towards your betterment, the next and the most crucial step is to find a specialist expert and experienced enough to cater for your health issues and hormonal problems. 
Assuring the best services and therapies to you, a French board-certified gynecology and obstetrics expert, Dr. Rashad Haddad, is here for assistance. He has been serving and making lives easier for thousands of patients with his effective and highly accurate treatments. 
He operates in Dubai at Dynamic Clinic, so get your booking done now!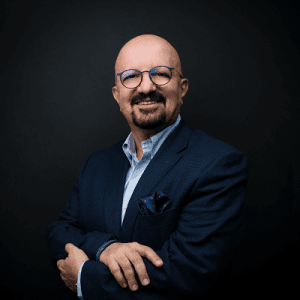 Dr. Rashadd Haddad
Dr. Rashad G. Haddad, French Board-certified and a representative of the French College of Obstetricians and Gynecologists, began his medical career at academic hospitals in Paris and progressed through the ranks to become an excellent professor while maintaining a private practice in the French capital.
View Profile
Cost of Hormones Specialist in Dubai:
The charges rely on the patient's individual problem. Thus each patient has to pay differently. Also, treatment variations according to the client's problem, doctor's expertise and experience, provider's place and specifications. You'll be informed in your initial visit after the detailed examination.
Is Hormonal Check-Up covered By Insurance?
Treatment options for hormonal imbalance are mostly covered by the insurance companies as they directly affect the client's general health and fertility problems. As they have no cosmetic concerns, you'll get their treatments covered.   
Choose a Dynamic Clinic for Your Problem Correction!
Dynamic Clinic has UAE's top board-certified surgeons to cater for the hormonal problems of the patients with customized therapies for each at affordable and pocket-friendly prices in the UAE. If you have been in pain and distress for internal issues, Get the services of a Hormone Specialist in Dubai at Dynamic Clinic!