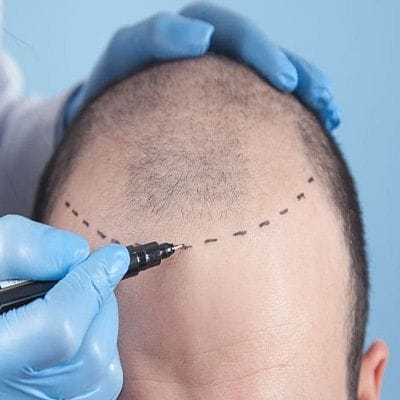 Hair loss is among the most prevalent conditions that affect people of all ages and genders. It is the most important aspect of one's appearance, and many individuals have severe hair loss, weakness, and baldness as a result of a variety of causes. As a result of technical advancements, people may be able to receive the most amazing hair transplant.
Hair transplantation is the quickest technique to re-grow hair thanks to advanced technologies. It is a technique in which dermatologists use a hair sample obtained from the sides of the head or rear head to transplant hair onto bald regions of the head. If you're planning on having a procedure at an affordable cost here's what you should know about Hair Transplant Cost per Graft in Dubai & UAE
Hair Loss and Baldness Severity:
Before recommending a treatment strategy, it's critical to evaluate the severity of hair loss/baldness, because all hair transplant prices revolve around it. Hair Transplant Cost in Dubai & UAE is determined by the surgeon's examination of the patient's baldness, which is divided into seven phases. Making certain that if you are identified with six or seven sets of male hair loss/baldness, the charges will rise since these phases necessitate more tasks and effort. To properly finish transplant surgery, the technique needs around 2,000 transplanted follicles.
Qualified Candidate:
If you have:
Permanent hair thinning.
Receding hairline.
Severe baldness.
In desperate need of a hair transplant.
You must have hair that is resistant to balding on your head.
You should not get strip removal surgery if you have a tight scalp.
Hair loss is becoming worse.
Keep in mind that the cost is determined by the severity of the candidate's problem.
 Average Cost:
When it comes to expenses, keep in mind that they vary based on the operation and the cosmetic surgeon you choose. It's a delicate procedure that can't be taken lightly. It's a delicate procedure that needs entire attention, steady hands, and foresight. The average Hair Transplant Cost in Dubai & UAE is 13, 500 AED which is determined by the hair grafts.
Cost Calculation per Graft:
Dynamic Aesthetic Clinic Dubai offers procedures ranging from 13,500 AED to 40,000 AED under the supervision of highly qualified staff and a team of specialists. Prices are calculated on basis of per graft cost which is 10 AED to 12 AED FUT hair transplant and 15 AED to 20 AED FUE per hair transplant per graft.
2000 Hair Graft Cost:
Taking into notice the hair per graft cost at our facility, 2000 per graft cost almost 20,000 AED to 24,000 AED FUE hair transplant and 30,000 AED to 40,000 AED for an FUE hair transplant per graft procedure.
Factors Affecting Hair Transplant Cost:
Other elements that have a part in deciding the budget for a hair transplant entail:
The treatment applicant will need a certain quantity of grafts.
Hair restoration procedure to be utilized (FUT or FUE).
Qualifications, expertise, and credibility of the surgeon.
The treatment region where hair must be transplanted is the size of the treatment area.
Hair features of the donor (volume, texture, color, and waviness).
The candidate's intended outcome (hairline design and including hair density).
Why should you pick us?
Dynamic Aesthetic Clinic is a gorgeous, welcoming environment with knowledgeable staff and board-certified experts that care about your health. Hair transplantation is usually handled here under strict observation and with all necessary safeguards. Considering your convenience, we are here to provide the right procedure at a more inexpensive Hair Transplant Cost in Dubai & UAE with assuring efficiency and reliability.
Setup a Call!
If you're looking for such surgery, Dynamic Aesthetic Clinic is the safe space to go. We are a cutting-edge facility with a board-certified specialist on staff. We can do the procedure at a suitable rate, and go ahead and book an online free consultation to get the price you want. The Hair Transplant Cost in Dubai & UAE at Dynamic Aesthetic Clinic is one of the lowest within the area.