Is your hair loss condition getting out of control? Are you suffering from a male/female pattern of baldness? Do you wish to get a permanent solution for it? Would you like to regain your flawless self? If Yeas then let all the concerns fade away at Dynamic Aesthetic Clinic Dubai. After Turkey, we offer the best hair transplant techniques, which the best doctors perform for Hair Loss.
Get familiar with the  Best Doctors for Hair Loss in Dubai and let all your worries fade in a blink of an eye. 
Hair Loss Treatment:
Before you know about the team of doctors for Hair Loss Treatment, you must get familiar with the treatment plans we offer at our clinic. The treatment is performed in surgical and nonsurgical ways. We offer our Hair Transplant as a surgical intervention and PRP and Mesotherapy as a non-surgical intervention. 
Hair Transplant:
A Hair Transplant occurs when a plastic or dermatologist specialist transplants hair to a bald part of the head. Hair is typically moved from the rear or side of the head to the front and top of the head by the surgeon,  usually performed with a local anesthetic inside a doctor's office. Hair Transplant is performed chiefly via two methods FUT and FUE. A surgeon makes an incision a strip of skin from the back or side of your head and then harvests the hair follicles throughout the Follicle Unit Transplant (FUT) procedure. Instead of extracting a strip of scalp skin, the surgical procedure removes individual hair follicles precisely from the scalp during the Follicle Unit Extract (FUE) procedure. Presently, FUE is the most popular procedure.
PRP:
Platelet-Rich Plasma Treatment (PRP) is a regenerative medicine that can increase your body's natural growth factors to mend tissue. The liquid component of the whole blood is plasma. It is mainly made up of water and proteins and serves as a transport medium for red blood cells, white blood cells, and platelets throughout the body. Platelets, also known as thrombocytes, are blood cells that help the body mend itself by producing blood clots. Platelet activation is an essential part of the body's natural healing process.
Mesotherapy:
Mesotherapy is a hair-growth treatment that involves injecting vitamins, minerals, and amino acid combinations into the scalp. With this procedure, the substances that nourish the hair follicles can effortlessly accumulate in the hair. This treatment can repair hair loss with this procedure because it strengthens damaged hair, prevents hair loss, also makes it significantly thicker and brighter.
Meet The Team of Doctors at Dynamic Aesthetic Clinic Dubai:
When it comes to hair loss issues, there are no other alternatives. We are the most respectable, well-known, and reputable professionals in the region. We can provide anyone with excellent hair loss treatment that contributes to the ideal hair vitality they desire. We've chosen to engage, share our expertise, and give exceptional care. The competence of our doctors ensures dependability, appropriate procedures, and the finest available therapies.
Dr. Abdul Majeed Makkiya: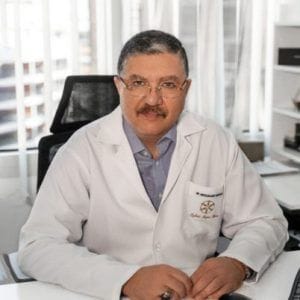 Dr. Abdul Majeed Makkiya has been one of the most well-known experts in hair treatments for nearly three decades. His three essential beliefs are exercise, knowledge, and comprehensive investigation. He started his professional career in Canada but relocated to explore competence in the United Arab Emirates. His services are DHI, FUE, FUT, PRP, IPL, and other hair operations.
Dr. Sania Awais:
Dr. Sannia Awais has a strong background in aesthetic medicine, hair restoration, and hair transplantation. She works as a senior aesthetic specialist in our clinic, where she excels at going far beyond the call of duty. She has completed dozens of hair transplants, hair restoration, and skincare treatments to present, and her patients have given her rave evaluations. She is a well-known medicine practitioner in Dubai, where she has many accomplishments. Hair restoration, hair transplant, and skin rejuvenation procedures such as facials, mesotherapy, and facial/body contouring are among the critical specialties of Dr.Awais. She also has experience with PRP and other dermatology techniques.
Dr. Zainalabdin Al Abdullah:
Dr. Zain is an expert in aesthetic medicine with decades of expertise. He works at Dynamic Aesthetic Clinic as a senior aesthetic medicine specialist, and he goes beyond the call of duty. Dr. Zain is a board-certified dermatologist with considerable experience operating in Turley, Syria, and the United Arab Emirates. He is a well-known aesthetic medicine clinician in Dubai, where he has a long list of accomplishments. Skin rejuvenation treatments, such as face transformation, lip fillers, PDO thread lifts, body fillers, mesotherapy, and facial/body reshaping, are now his areas of expertise. He also has experience with PRP and many other hair regrowth techniques.
Consultations:
With all of the details on our surgeon, we can provide you with cost-effective hair loss therapy. So, make an appointment with the top team around you for a free consultation and get the hair structure you've wanted for years.