Men can now reduce breast size without any surgery!
The term "Man boobs" and fear of surgeries leads most males to consider non-surgical options. But the question is: is there any non-surgical way to reduce male breasts? It might seem like fantasy, but for some men, it works.
Here's what to know about Male Breast Reduction without Surgery in Dubai, Ani Dhabi & Sharjah.
About Male Breasts:
Male breasts are caused due to being overweight, Losing Weight, hormonal changes, or perhaps the side effect of medicines. Regardless whatever the reason, it's purely a cosmetic issue, with no health problems reported.
At Dynamic, we provide various procedures to treat man boobs and change their lives.
Non-Surgical Treatments:
Non-invasive treatments are the patient's favorite. They are only advised if a man's breast is caused by fatty tissue. This is the reason we strictly focus on initial consultation to find the true cause of the problem in terms of recommending the best suitable treatment.
We talked to expert surgeons and came to some conclusions.
Cool Sculpting:
For mild cases of Gynecomastia, cool sculpting is best suited. It can reduce a man's breast size by moving a freezing device over the chest. This non-surgical method only shrinks the breast fat but does not take control of; how much reduction needs to take place. Further, it can't be used for precise shaping.
Diet and Exercise:
To help burn the fat tissues, dieting and exercising help a lot. You can consult our specialists to find the appropriate workouts that can react best in your chest condition.
Hormones Treatment:
Hormonal imbalances can result in male breast enlargement. To tackle such concerns, our doctors suggest a couple of medications balance the hormone levels.
Losing weight:
Losing weight stands out somewhere true in "Male Breast Reduction without Surgery in Dubai"
Your weight should be as per your height. Losing the fat can impact the overall body including breasts. This tactic may help in the concerns of excess breast tissue, not for the other issues.
Elude Drugs and Steroids: 
Drugs intake increases the chances of man boobs. Inhibit alcohol and drugs if you want to prevent the formation of breasts in the future.
Final Decision- Gynecomastia:
When non-surgical treatments fail, surgery remains the only solution.
Gynecomastia Surgery comes up with excellent results. There is no comparison of this surgery with non-surgical ways. Exercises, workouts, and diet plans work but not effectively. The surgical alterations bring dramatic reduction in breasts. It's actually not that hard operation nor very risky. The scars are barely noticeable with no bulging breasts like women.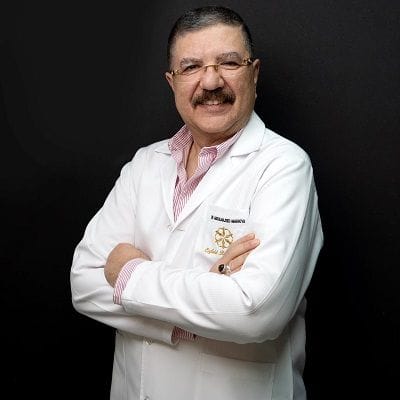 Dr Abdul Majeed Makkiya
1999 -2021 - Highly qualified cosmetic surgeon with 20+ years of experience. Passionate about helping others.
View Profile
Dr. Dina Elyamani
Get yourself enhanced according to your expectation from the leading aesthetic facility of Enfield Royal Clinic...
View Profile
Dr. Sannia Awais
A dedicated esthetician who is committed to the highest standards of excellence - always striving to achieve the very...
View Profile
Conscious About Surgery? We Can Help!
The stigma of plastic surgery isn't considered shocking nowadays. Modern technology has improved a lot of people are becoming open about improving their appearance. Whatever you want to consider either a surgical or non-surgical option, we respect your decision.
Our experts can keep you on right track with the most trusted recommendations and true guidance. We never advise our patients on a treatment that is unsafe for their health. 
To find more details on Male Breast Reduction without Surgery Dubai & Abu Dhabi, contact our team. Call directly at +971588230420 or use the online form for consultations.