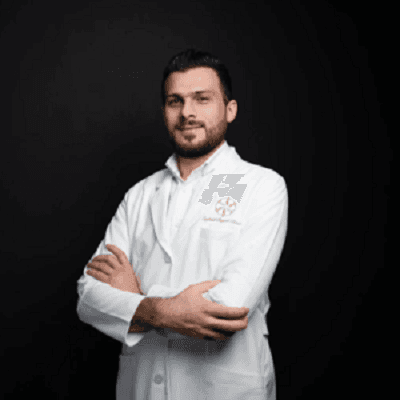 Dr. Alaa Alkoutiny is more than a urologist and sexologist; he is a personal champion for a full and healthy life. Dr. Alaa is dedicated to creating a safe sanctuary where you can openly discuss your private health issues without fear of judgment. He has a heart full of compassion and a lot of experience. If you are worried about your intimates' problems. Then Dynamic Clinic In Dubai is the best place for you. Dr. Alaa Alkoutiny is a staunch believer in the vital link between physical health and one's personal life, as it is crucial for a joyful and healthy life. His objective is to provide you with knowledge, sensitivity, and the most recent medical advances, guaranteeing that your road to well-being is genuinely transforming. If you are excited, Dr. Alaa is here to guide you every step of the way as you explore the intersection of intimacy and uncover the best version of yourself. Welcome to a world of limitless possibility, where our major goal is to pique your interest and satisfy your aspirations."
Qualification:
Dr. Alaa Alkoutiny is a highly skilled and experienced physician who specializes in urology, andrology, and sexology. Dr. Alaa Alkoutiny has established himself as a known leader in the field of men's health through his dedication to delivering thorough and compassionate care to his patients. Dr. Alaa koutiny graduated with honors from a prominent university after completing his medical studies. Through intensive training programmes and clinical rotations, he then sought further specialization in urology, andrology, and sexology. His commitment to lifelong learning and being current on breakthroughs in his specialties guarantees that his patients receive the most cutting-edge and effective therapies possible. He has expertise in many perspectives related to intimates. The following are the details of his educational degrees:
Kidney Surgical Hospital Damascus:
Syrian board, Kidney transplantation

April 2019 – April 2022

Position: Resident at the Kidney Transplantation Department

Skills: Kidney Transplantation
Syrian Ministry of Health:
Bachelor of Medicine, Bachelor of Surgery – MBBS, Urology Residency Program

April 2013 – December 2019

Position: Resident in the Urology Department

Skills:

Stone Disease

Kidney Stones

Prostate

Andrology

Endourology

Erectile Dysfunction

Fertility
Aleppo University:
Doctor of Medicine – MD

May 2007 – July 2013
Expertise:
Urology

: Dr. Alaa Alkoutiny's proficiency in urology encompasses the diagnosis and treatment of a wide range of urinary tract and male reproductive system conditions. His expertise includes, but is not limited to, kidney stones, prostate issues, bladder problems, and urinary incontinence.

Andrology

: Dr. Alaa Alkoutiny is particularly skilled in andrology, focusing on male health issues. He provides expert care for concerns such as erectile dysfunction, male infertility, testosterone disorders, and male hormonal health.

Sexology

: Dr. Alaa Alkoutiny's specialization in sexology underscores his commitment to improving patients' sexual health and overall quality of life. He offers confidential consultations and treatment options for sexual dysfunction, intimacy issues, and sexual well-being.
Focused Area:
Dr. Alaa provides comprehensive care that is tailored to each patient's specific needs and specializes in a wide range of urological and andrological procedures. Among his treatments are:
P-Shot (Priapus Shot):

A novel therapy that uses platelet-rich plasma (PRP) to promote male enhancement and sexual function.

Penile Filler:

Increasing penile girth and length with safe and efficient filler treatments suited to individual needs.

Scrotox (Botox in the Scrotum):

A specialized technique for resolving scrotal cosmetic and functional issues.

Infertility:

Expert examination and therapy for couples who are having difficulty conceiving.

Premature Ejaculation:

Comprehensive techniques for treating and managing premature ejaculation in order to improve sexual performance.

Prostate Enlargement:

Diagnosis and treatment of benign prostatic hyperplasia (BPH) in order to enhance urine function.

Stone disease

is the evaluation and treatment of kidney stones, as well as the provision of relief and preventative efforts.

Sexology and Andrology:

Specialized care for problems with libido, sexual dysfunction, and andrological disorders.

Sexual Advice & Consultation:

Personalized consultations with empathy and competence to treat a range of sexual health difficulties.
Patient-Centered Methodology:
Dr. Alaa Alkoutiny is well-known for his kind and patient-centered approach. He recognises that addressing urological and sexual health issues may be awkward, and he works hard to make his patients feel safe and at ease. He listens to their specific requirements, answers their questions, and develops personalized treatment regimens that are in line with their objectives and preferences.
Affiliations Professional:
Dr. Alaa Alkoutiny is a member of various urology, andrology, and sexology-related medical groups and organizations. His participation in these professional networks guarantees that he is up-to-date on the most recent research and best practices in his areas of specialization.
Clinical Expertise:
As a urologist, Dr. Alaa Alkoutiny specializes in the diagnosis and treatment of urological conditions, including urinary tract issues, kidney problems, and male reproductive system disorders. His expertise in andrology focuses on the male reproductive system, encompassing areas such as fertility, sexual function, and hormone regulation. Dr. Alaa Alkoutiny's proficiency as a sexologist allows him to assist patients with sexual health concerns, including erectile dysfunction, premature ejaculation, and relationship issues. The following are the main experiences:
Specialist Urologist:
Yugen Care:
Sep 2022 – Present · 1 yr 2 mos.

Dubai, United Arab Emirates
Private Polyclinic:
May 2019 – May 2022 · 3 yrs 1 mo

Damascus, Damascus Governorate, Syria.
Research and Publications:
In addition to his clinical practice, Dr. Alaa Alkoutiny is actively involved in research in his respective fields. He has contributed to numerous publications and academic journals, further advancing the knowledge and understanding of urological, andrological, and sexual health issues.
Community Involvement:
Dr. Alaa Alkoutiny is committed to promoting men's health awareness and education. He frequently participates in community outreach programs and health seminars, sharing his expertise and insights to empower individuals to make informed decisions about their health.
Professional Memberships:
Dr. Alaa Alkoutiny is an active member of various professional organizations related to urology, andrology, and sexology, keeping him updated on the latest advancements and best practices in his field. Dr. Alaa Alkoutiny's dedication to the holistic well-being of his patients, coupled with his extensive knowledge and experience, makes him a trusted and sought-after urologist, andrologist, and sexologist. Patients can rely on his expertise to address their specific health concerns with care and professionalism.
Board Certified in Urology

Syrian board

Issued Jul 2019
Closing Remarks:
Dr. Alaa Alkoutiny is a trustworthy and caring urology, andrology, and sexology specialist who is committed to improving your health and well-being. He is dedicated to providing excellent care to her patients. Because of her extensive expertise in managing difficult labor situations, specific skills, continuing dedication to learning, and individualized approach to care. Make an appointment with his practice now to take the first step towards a better and more rewarding life.