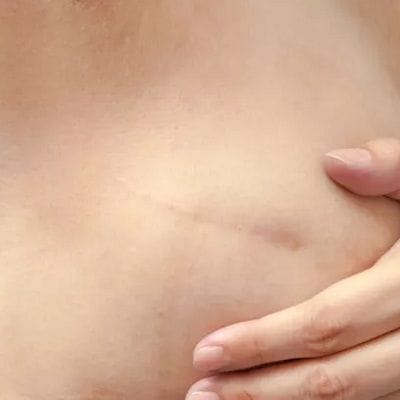 Well stated, "Toughness is in the soul and spirit, not in the muscles."
If you are among those who are suffering from a breast cyst, then there is no need to worry. It is treatable in a non-invasive way, and there is no fear of surgical treatment, it is a moveable liquid pack. The shape can be circular or oval, appear on one or both sides, and do so for multiple reasons which can cause, including familial, gene mutations, or frequently unusual possibilities. Cysts can evolve painfully if they extend. As you get older, the size and responsiveness of breast tissue grow immensely due to hormonal instabilities brought on by menstrual rotation, which can cause breast secretion in some cases. That is hazy or an acceptable irritation right before your menstruation. It has multiple types, which may be painless and can disappear over time without any therapy, whereas unpleasant cysts do not. We're here to answer all of your questions about whether Can Breast Cyst Be Removed Without Surgery. Yes, it can be treated it is possible, and it can be eliminated by a painless process.
Indications
The cysts can appear on both sites: 
Typically, though not always, a soft, readily rolled round or oval bubble.

It causes the nipple to discharge fluid substances that may be transparent, yellow, or dark brown.

Mostly it causes distress or sensitivity in the breast.

The size can be increased just before your period.

It may disappear after a cycle is completed, but it will start on the next rotation.

Nipple tilting is a typical sign of this illness, they may turn inward.
Causes
Your breasts possess epithelial cell lobes that are arranged like daisy petals.

In the pregnancy and feeding process, the lobes are divided into shorter lobules that create milk.

Fatty tissue and fibrous connective cells construct the supportive tissue that gives the breasts their form.

As the liquid is produced inside the glands of the breasts, it generates cysts.

Specialists are uncertain of the exact causality.

It can be caused by hormonal irregularity.
Types of Breast Cyst
It has three most commonly found categories.
Microcysts 
These are small forms that are filled with fluid. They are totally noncancerous and can be observed through ultrasound.
Macrocysts
It is a difficult form. Its size might be 1 to 2 inches. It is also filled with fluid, but it contains solid components too. It appears more dominantly and can be treated with the needling process.
Complex type
It is a much more severe class, in which solid tissues start growing, which may lead to cancer. It can be treated with a needle biopsy. 
Treatment Options
Once the diseases are confirmed, you have several treatment options, the most commonly useable are two procedures:
Hormonal Therapy (HT)
Normally, women with influential signs are instructed to have this remedy.

It is a non-invasive option to treat it.

Oral medication can be utilized as an element of hormonal therapy to maintain the menstrual process.

Because it is farmed during the monthly cycle.

Consequently, hormonal therapy may be used to eradicate the replication of these cysts.

If you are using birth control medicine, then it will have unfavorable consequences.
Fine Needle Therapy
If you have a cyst on your breast but you are scared of the surgical methods, then don't worry. Breast Cysts can be Removed Without Surgery in Dubai.
This option is utilized to remove the fluid from your breast with the help of needles. 

The goal is to terminate this liquid supply to stop the cysts.

This procedure can be repeated in the event of a recurrence of the disease.

No adverse effects will appear after this treatment. You may feel a little swollen, but it will vanish.
Outcomes
If you follow the instructions of the expert, you will get instant results after getting this non-invasive treatment.
Use it as directed in the event of discomfort.

A post-treatment check-up is essential.

Overcome physical activities for the best outcome and healing
Cost
At Enfield Royal Clinic, the price in Dubai starts from 4,000 to 10,000 AED, but prices can be changed. They are not fixed and can be changed by different elements. Now you have cleared that Breast Cyst can be Removed Without Surgery, the total expenses depend on the following factors:
If you have to sever cysts, then the cost will be high. If normal, then it will be low.

Charges can be changed if your doctor is highly demanded.

If the clinical location is a very prime area, it will also affect the expenses.

Treatment repetition can alter the expense.
Before the procedure, you have to make sure of all these components.
Why Choose Us?
We have highly experienced doctors. They deliver very effective service and produce efficient outputs. In Dubai, it is possible you can Remove Breast Cysts without any Surgery. If you want to resolve these problems, then don't waste time. Just fill out the below-given form and get a free consultation. Our experts will guide you to the most appropriate treatment and will resolve all the related issues. They also take care of your privacy, you will get a completely secure and safe environment, and they will assist you with all your queries regarding outcomes and recovery.