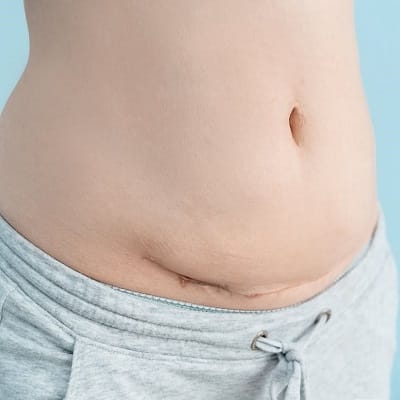 Hey Mommy, Have a Smoother Tummy!
Pregnancies and Childbirth are definitely the best and happiest memories of our lives. Especially hats off to the incredible creature on earth, or it wouldn't be wrong to say that an Earth's Beauty can bring another human into this world. Yes, The woman!
Bringing a little bundle of joy is not an easy peasy lemon squeezy process but a matter of life and death. When the normal delivery becomes problematic and a lifetime risk for both the mother and the child, A c-section technique is used to take the baby out!
The motherhood journey continues, but the scars make the body appear awful as the technique leaves scars.
No worries, Superhumans! C Section Scar Laser Treatment in Dubai would be great!
What is C-section, and Why does it Leave Scars?
C-sections are surgical procedures used explicitly for cesarean delivery. The cesarean delivery might be planned or unplanned. In this procedure, a gyne specialist makes a long horizontal incision at the lower abdomen to take the child out of the womb. This long incision gets closed with the stitches and starts healing. As it's surgery, how can it be possible that surgical therapy does not leave a scar? As soon as the cuts are on their way to healing, spots are on the same way to get their place. This is where the Laser Scar Removal in Dubai comes in!
The c-section scar shape may vary from patient to patient, but they might appear red, raised, or pale.
Laser's Procedure For C-section Scar Removal:
The treatment starts with applying local anesthesia to the treatment area. The practitioner uses a precise laser beam directly at the damaged parts of the skin. The laser technology helps soften the scars and then quickly remove them. The laser therapy helps activate collagen growth and elastin production resulting in stretch marks removal, c-section, and other injury scar reduction.  
Few continuous Laser Treatments are necessary to achieve the desired outcome. 
Benefits Of C-section Scar Removal Laser Treatment:
As mommies hardly get time for themselves as they are busy in their hectic life coping with the house chores, children, and job, this procedure will not take much of their time, with no downtime and just a minimal recovery. 

The patient does not have to limit daily or social activities as they can be resumed right after the therapy. You can join the office the same day or a day after treatment. 

The treatment will give your lower abdomen a smoother look by efficiently fading out the scar line.

As motherhood does not steal your personality and charm, and you are allowed to wear whatever you like,

Laser Scar Removal Treatment in Dubai

makes it easy for you.

The treatment has no side effects as long as it gets performed by a board-certified practitioner. 

No pile or a series of treatments is needed. One treatment a month for three months would be enough for the desired results. 
Do Laser Treatments really work for C-section Scar Removal? 
Yes, lasers are the most preferred and effective way of stretch marks and c-section removal. 
The ablative laser radio-frequency works efficiently well in treating and fading the stretch marks formed in the last two trimesters. They also fade out the c-section scar line really well. Higher success rates and optimal results are shown up for those who opt to get lasers to treat the scars in six to eight weeks. 
C-Section Scar Removal Cost:
The Cost of C-section Scar Laser Treatment in Dubai starts from AED 500 with Pico. The price varies for every patient that fulfills the candidacy criteria as each has a different problem. Remember that the mentioned cost is just an estimation of how much a patient should expect to pay because the total price will be calculated in the initial consultation. 
C-section Scar Laser Treatment in Dubai at Dynamic Clinic!
As the most outstanding artwork, human bodies have to go through a lot throughout their life journey. 
The best thing is that we don't have to live with the scars which remind us of the memories we once underwent. Laser Scar Removal in Dubai would be enough to tailor your needs by expert practitioners at a budget-friendly cost.