Occurrence of scars after wound repairing is normal. They can appear anywhere on the body and take any size and shape depending upon the area where the wound is present. Being so prominent, scars affect the physical appearance so people seek treatments to remove them.
Fundamentally, having scars is not a medical problem and the Scar Removal Dubai & Abu Dhabi are designed just to improve their look. It is important to see an experienced practitioner for this type of treatment as it requires a great degree of command and skills of the doctor to eliminate scars without any complication.
Scar Removal:
Any individual who wants to get rid of scars can get benefit from scar removal in Dubai & Abu Dhabi. Dynamic clinic is proud to offer several effective and safe treatments to serve people facing scar concerns. The good thing about these treatments is that they can combat all types of Acne Scars including keloid, stretch marks, acne scars, surgical scars, burn scars, hypertrophic, and the scars caused by accidents.
Who is the Candidate?
People who are looking for effective solutions for reducing the appearance of the scars can go for scar reduction. Things that can make you a great candidate are,
Individuals who are physically healthy and non-smokers typically obtain best results without problems
You have burn marks, age spots, acne scars, injury scars, stretch marks etc. and you want to remove them
It is important to have realistic expectations for your scar removal treatment
Make sure you do not have any other active skin disease
If foundations and concealers have failed to hide the scars, and you have started feeling conscious about the way they look
Scar Removal Results:
For a few days after the treatment, there will be swelling, irritation, and burning in the area that has been treated. You may encounter some impressive effects right after the treatment but keep in mind fuller results will not appear till your skin completely heals. In most cases, patients take about 4-5 weeks to see a noticeable change in skin appearance.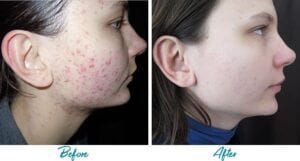 Benefits of Scar Reduction:
Few important benefits of Scar removal in Dubai & Abu Dhabi are,
Fades prominent scars without causing major side-effects
Makes the skin complexion lighter by evening out the overall skin tone
Eliminates blemishes, freckles, age spots, sunburns along with scars
Enhances the texture and tone in just a few sessions
Cost-effective procedure and easy to perform
Delivers long-lasting effects and requires no downtime
After scar reduction, the skin looks smooth, firm and flawless
Preparation:
Prepare yourself for scar reduction in Dubai & Abu Dhabi in order to achieve optimal results. Following are a few tips that you have to use before undergoing the treatment,
Avoiding sun exposure is very important so before going out in the sun, do not forget to use sunblock with broad-spectrum protection
Notify the doctor about your medical history and current medications
On the appointment day, wash the area that needs treatment with anti-bacterial soap to minimize the risk of infection
Wearing makeup while having scar reduction treatment is not a good option
Treatment Options:
Topical Creams:
Getting rid of scars with topical creams is the easiest and simplest way but the downside is that this option is not suitable for everyone. People with deep and permanent scars should go for other options.
Cryotherapy:
You can undergo Cryotherapy to improve the look of the Acne Treatment. In this treatment, liquid nitrogen is used to treat deeper skin tissue scars.
Chemical Peels:
Another effective scar reduction treatment that we offer. During the procedure, a chemical solution is applied to the skin surface to remove the outer layers, this is done to enhance the appearance of the scars. Please note that this treatment option only works well for people with mild scars.
Dermal Fillers:
For deep surgical scars, dermal fillers are recommended. This method involves the use of hyaluronic acid to fill in the depressions and hollows. This treatment option is minimally invasive, the patient only experiences mild tingling sensations while having the procedure.
Skin Grafts:
Skin graft is the most invasive treatment option as it is performed by extracting skin tissues from one area of the body and placing them on the scars to make them less visible.
Post-Operative Instructions:
For quick and healthy recovery, you have to follow these guidelines following Scar removal in Dubai & Abu Dhabi
Do not pick or scratch the scars for at least a week after the treatment
Take prescribed pain relievers to alleviate pain and discomfort
Apply topical medications to the treatment site as per instructions of the practitioner
Protect the treatment area from harmful sun rays by using sunscreen on it
Recovery:
Recovery time after scar removal varies from patient to patient depending upon the method used to combat scars. Generally, recovery after surgical options is expected to take months but if you have undergone a non-surgical Laser Treatment option, you might recovery within a few days.
Concluding Remarks:
Would you like to get more information about Scar Removal in Dubai, Abu Dhabi & Sharjah? Have a consultation with one of our skincare practitioners to have a better understanding of the treatment options. Fill the consultation form or call us to book a free appointment.