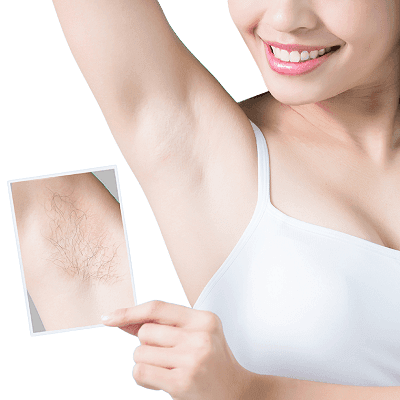 Underarm Laser Hair Removal Dubai:
Underarm hair is the biggest hurdle while having dressing of your own choice like sleeveless backless etc. Laser hair removal in Dubai is the shortest procedure to discard the annoying hair from underarm without any pain however, this treatment works best on fair skin because it will be easy to distinguish between the color of skin and hair. The undesired hairs can be removed permanently from your armpit if you follow the post-sessions frequently. This treatment must be done from a trained practitioner to avoid reactions.
This laser process is suitable for every skin type, color and for both men and women who want to enrich their lifestyle, they can have this treatment at our clinic to attain optimal results.
Laser hair Removal for Dark Underarms?
Lasers aren't only responsible for discarding the undesired hair but they can also improve the appearance of your armpit by lightening it however, the dark underarms can be caused due to harsh spray, shaving, or irritation which must be avoided after having this treatment.
Is it Painful?
In short, No. Lasers don't hurt, it's completely a painless procedure to resolve the hair problem without any stitches, scars, or cuts. The laser beam falls on the specific area to reduce the growth of hair follicles however, the biggest embarrassment can be escaped forever by consulting with us.
Results & Recovery:
The smooth hair-free skin can be noticed immediately as a result of this treatment. These outcomes won't last for long if you go for only one session, practitioner's advice to take five to eight sessions to attain permanent results. The majority of the people prefer this procedure because of its long-lastingness however, with every session your hair will become vanish. To maintain these effective results, the patient must follow some common guidelines prescribed by the doctor:
Avoid sun exposure
Use a cold pack if you face swelling or irritation
Avoid touching your treatment area for a few days
Must follow post-treatment sessions to attain enduring results
Avoid using cosmetics on the treatment area
Don't wash your armpit with too hot or cold water
What to Expect During Treatment?
During laser hair removal treatment, a small instrument will be used by the practitioner to prohibit hair growth. When Laser is activated by the doctor, the heat starts coming from it which can damage your hair follicles by passing through your underarm. You will be given a cooling gel or cold pack during the whole process to avoid discomfort however, some minor sensations can be felt while using these cold packs. This whole procedure can take up to a few minutes because the underarm area is the small portion that can be covered quickly. As a result of this procedure, hair follicles are destroyed but if you want to discard your underarm hair permanently, you must attend at least five sessions.
Benefits::
Lasers discard the need for waxing, shaving, and threading to eliminate the unwanted hair from your underarms. This process will let you resolve this issue permanently without any side effects or long recovery procedures, you can get back to work after one or two days of treatment. Although you can wear anything you want, there is no need to hide your armpit while dressing. However, some major comforts include:
It the non-invasive painless procedure
Lasers can manage many hairs at a time
It can prevent your skin from red or brown spots
It's the shortest procedure, which saves your time
It has no reactions
It can lighten your skin for a long time
Permanent results can be attained
Affordable treatment
Cost of Underarm Whitening:
The cost of underarm laser hair removal in Dubai varies from individual to individual whether its clinic or patient however, Dynamic Laser Skin Clinic offers best underarm laser hair removal at reasonable rates. There are some key factors on which cost depends:
Treatment area
Skin type
Skin Color
Hair thickness
Number of sessions you attend
Expertise of practitioner
Why Choose Us!
Exhausted of shaving your underarms? No problem. We have a solution for you, underarm laser hair removal treatment eliminates the need for shaving or waxing daily and undesired armpit hair won't become the part of your life anymore. If you want to acquire this treatment or you want to understand the procedure of lasers you can feel free to consult Dynamic clinic to consider Underarm Laser Hair Removal in Dubai, Abu Dhabi & Sharjah.